Assistant Inspector General of Police Andrew Kaweesi served as the force's spokesman and was one of the country's most high-profile officers. He and his guards were gunned down on Friday as they left Kaweesi's home in Kampala, government spokesman Ofwono Opondo said.
"He (Kaweesi) was waylaid this morning by yet unknown gunmen. All the occupants of the vehicle were killed," Opondo said.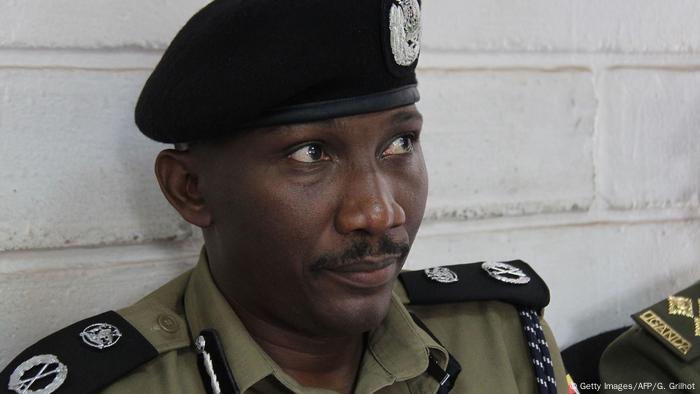 Assistant Inspector General of Police Andrew Kaweesi
"He was shot dead this morning as he was leaving his home coming to work," Inspector General Kale Kayihura said. "Kaweesi had two police officers guarding him who were also killed. The motive is yet to be established."
Police killings are rare in Uganda, but the killing was similar to the assassinations of an army officer last November and senior public prosecutor Joan Kagezi in March 2015. Both victims were gunned down by assailants on motorcycles.
Shower of bullets
Local Mayor Charles Sserunjogi said he heard "a shower of bullets - many shots - from my house nearby."
"I don't believe what I'm seeing right now," Sserunjogi continued. "I knew Kaweesi well and met with him about a week and a half ago to discuss tarmacking the road he was shot on," he said.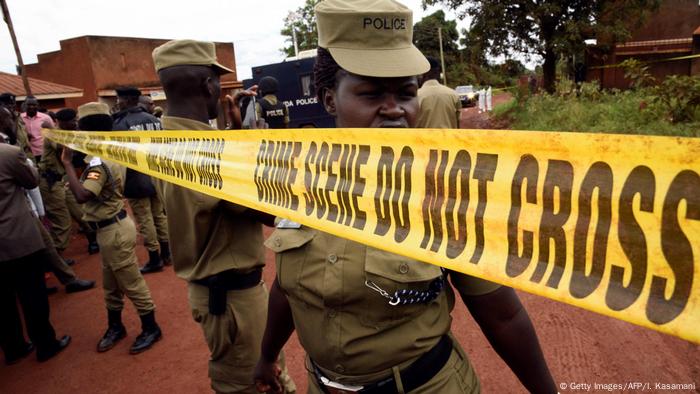 Police cordoned off the scene of the killings in Kampala
Local witness
A local man witnessed Friday's shooting. Mohammad, a 30-year-old motorcycle taxi driver who lives and works in the area, described seeing four men on two motorcycles attack the car at around 9:30 am (0630 UTC) as they left for work.
"They shot very rapidly with guns that looked like AK47s," said Mohammad. "The motorbikes came from behind as the car was leaving Kaweesi's house. The car driver tried to increase speed but they drove past the car and shot into it," he continued.
"The motorbikes were new and the shooters looked professional," he added. "They weren't wearing masks but I didn't see their faces because I ran for cover."
Other neighbors reported that the gunmen had time to open the car doors to make sure that their target was dead before speeding off on two separate motorcycles.
Details of the attack, including the motive, were unclear but Opondo said the perpetrators must have used a "powerful weapon," knowing that they knew they were attacking armed people.
President Yoweri Museveni condemned the killing and "directed the immediate installation of cameras in all major towns of Uganda and along the highways," his office said in a statement.
Kaweesi rose to prominence as he led the police response to widespread opposition party protests following a controversial presidential election in 2011.
bik/jm (AFP, Reuters, DW)