Julian Pollersbeck was in trouble. As if allergic to the 18-yard box, the young Hamburg goalkeeper had spent much of the past 92 minutes outside his area.
Now though, St. Pauli were on the break. Midfielder Cenk Sahin spotted the 24-year old off his line and went for goal. The Volksparkstadion held its collective breath as Pollersbeck backpedaled, ultimately managing to tip the ball over the bar, as the 93rd Hamburg derby ended goalless.
"We're the number one in the city!" sang the 5,500-strong away following, all dressed in matching white T-shirts across both tiers of the away end.
"Let them have their fun," scoffed Hamburg fan Timothy behind the Nordtribüne, the home of HSV's hardcore. "They won a derby seven years ago, but we know who's really No. 1."
It's an age-old debate in Germany's second biggest city; events on the pitch on Sunday provided no answer. Off the pitch, however, the argument had been escalating for weeks.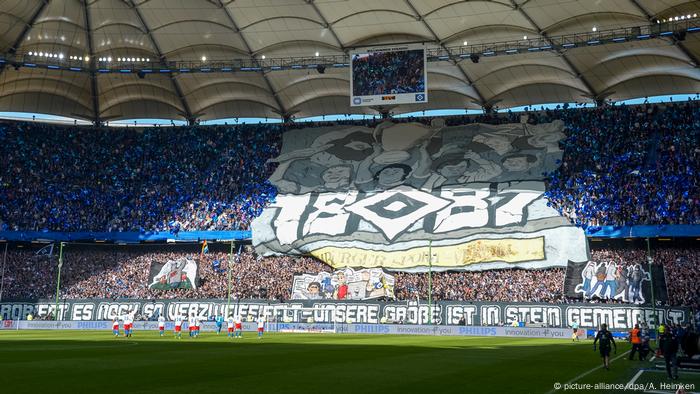 "Try as hard as you like, but our greatness is set in stone" — the message from the HSV fans
'There will be revenge'
Seven years they had been waiting. Seven years since Gerald Asamoah's header gave St. Pauli a famous win at the home of their rivals and handed them the Hamburg crown. Seven years that HSV had waited to seize it back. Now, following their club's first relegation from the Bundesliga, they would have their chance.
It began in August when groups of ultras connected to both clubs marched through rival areas of the Kiez — the alternative district surrounding Hamburg's famous Reeperbahn. HSV ultras disrupted a concert involving bands linked to St. Pauli, whose fans subsequently attacked their rivals' choreography preparations, injuring two HSV ultras in the process.
"That was dishonorable and cowardly; there will be revenge," furious Hamburg ultras told the local tabloid Morgenpost, before hanging effigies from bridges across the city: plastic bags packed with straw and painted in red, white and brown.
Seven years, it had been, since Hamburg and St. Pauli had crossed swords. But derby day had arrived.
Read more: Hamburg begin new chapter in second division
'You can never change your club'
The Hamburg derby is a clash of opposites. On the one hand, Hamburger SV: the black and white rhombus on a blue background, the 1983 European Cup winners who once considered themselves northern Germany's answer to Bayern Munich. "Six times German champions, four times cup winners, always first division, HSV!" as the song goes. Well, used to go.
On the other hand, FC St. Pauli. The alternative club in the heart of the city gained notoriety among the squatters who occupied the abandoned ruins along Hamburg's port. In the 1980s, as right-wing extremists began to take over football terraces across Germany, including at the Volksparkstadion, fans began to turn their backs and look for an alternative — which they found at the Millerntor.
"They say that you can never change your football club but in Hamburg in the 1980s that was different," explains Jörg Marwedel, a Hamburg-born author and journalist with Germany's Süddeutsche Zeitung. "I grew up a HSV supporter but the whole situation with the neo-Nazis became too much for me — and I wasn't the only one."
St. Pauli's hardcore support has since become known for its anti-racist, anti-fascist and anti-homophobic principles. "St. Pauli is definitely a left-wing club with an explicit political stance and certain values that we stand for, but I wouldn't call HSV right wing," explains Lena, an active St. Pauli fan. "The derby isn't a political battle but rather a clash of visions as to how football should be managed."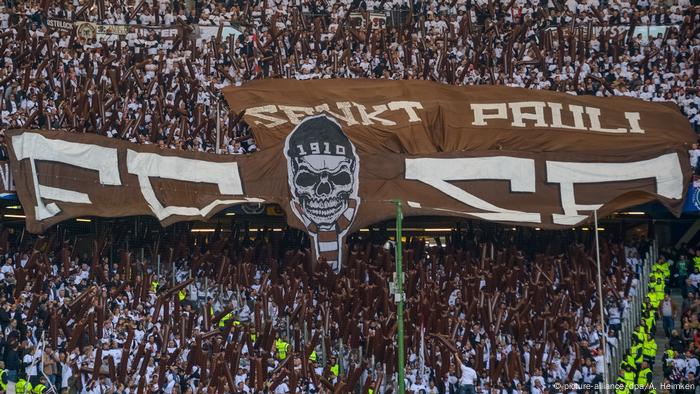 St. Pauli: an anti-establishment club that is a brand in itself
Crossbones and commerce
The two clubs have fundamentally different structures. Though St. Pauli remain 100 percent under the control of members, HSV have become reliant on the financial support of billionaire businessman Klaus-Michel Kühne since turning their professional football team into a limited company in 2014.
"It's extremely important for me to be a member of a club which is controlled by its members," says Lena. "In recent years, HSV have shown what can happen when a single person has too much power."
"HSV: a love bought as easily as on the Reeperbahn!" taunted a banner in the away end. "Your values are almost as strong as your hooligans!" responded the HSV ultras — a reference to their neighbors' supposed hypocrisy. After all, St Pauli are also a professional, second-division football club, and that doesn't come cheap.
The club adopted the skull and crossbones logo in the 1980s, but the anti-establishment symbol of rebellion quickly became a brand itself, cleverly marketed across the globe to sympathizers who are attracted by far more than just football.
"The club probably is more well-known for its political stance," admits Lena. "Of course, there are people who just buy St. Pauli T-shirts from the fan shop because they're cool but there are bigger issues than people liking the club for the values it stands for."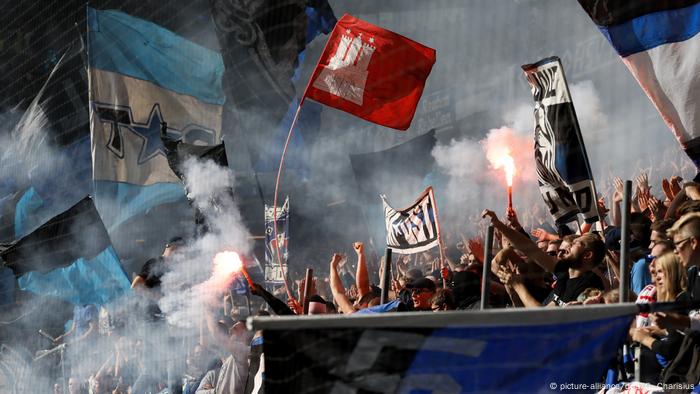 HSV ultras from the Clique du Nord tried to boost the atmosphere
Derby day
"We're the club from the heart of the city!" read the prematch call to arms from Ultra Sankt Pauli. "The club which knows where it comes from and protects its roots!"
All 5,500 tickets in the away end were snapped up within 300 seconds — although DW was still offered a spare ticket at face value outside. Inside, as the players emerged from the tunnel, ultras unfurled a brown banner featuring a skull in a St. Pauli scarf. Flares were lit, while the rest of the traveling support waved brown inflatables.
At the opposite end, the HSV ultras appeared to have repaired whatever damage had been done to their choreography in the previous week, as they produced a huge banner depicting the club's titles: "Try as hard as you like, but our greatness is set in stone."
After seven long years, the stage was set, but the match disappointed. The cliche would suggest that both teams were weighed down by expectation — it can happen in a derby of such magnitude. There's a more logical explanation. Both teams, having suffered heavy defeats already this season, approached the game overly cautiously and, until Sahin's injury-time effort, attacking chances were few and far between.
As clubs, Hamburg and St. Pauli are worlds apart. They will meet again at the Millerntor in March, but on Sunday at the Volksparkstadion, they underwhelmed together.