Gunfire broke out on a high-speed international train Friday evening in an attack that left at least three passengers hurt, France's state railway said. The carnage would have been more severe but for the intervention of two US citizens, France's Interior Minister Bernard Cazeneuve said Friday evening.
The American passengers "were particularly courageous and showed great bravery in very difficult circumstances" and that "without their sangfroid we could have been confronted with a terrible drama," the minister said.
One of the Americans was among the two seriously wounded in the attack; a third is being treated for minor injuries.
The train stopped and discharged its passengers near the town of Arras in northern France following the attack at around 6:00 p.m. local time (1600 UTC) . Local media said the unidentified suspect was armed with knives and firearms including a Kalashnikov-style assault rifle.
Investigators from France's special anti-terror police are leading the investigation, a spokeswoman for the Paris prosecutor's office told the AP news agency.
"It is too early to speak of a terrorist link," the interior ministry's spokesman Pierre Henry Brandet told the AFP news agency. He added the identity and motive of the attacker - now in police custody - remains unclear.
"Everything is being done to shed light on this drama and to obtain all of the necessary information regarding what happened," President Francois Hollande said in a statement
Two passengers in critical condition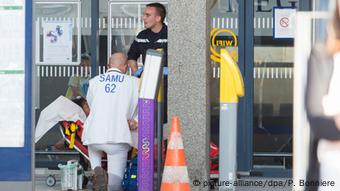 An armed man opened fire on a Paris-bound Thalys train Friday evening
French authorities have said an American and a Briton were among the injured.
The AFP news agency reports that French actor Jean-Hugues Anglade, who appeared in the 1986 cult film "Betty Blue", was lightly injured, according to an unnamed a witness. He had reportedly been cut by broken glass while trying to activate the train's alarm.
French, Belgian joint investigation
The attack began while the train was passing through Belgium, Hollande's office said in a statement.
The French president said he's spoken with Belgian Prime Minister Charles Michel and the two leaders pledged to cooperate closely on the investigation.
jar/kms (AFP, AP, Reuters)