Guatemalan President Jimmy Morales has called on the Latin American country's 7.5 million eligible voters to take part in a referendum on Sunday on whether the International Court of Justice (ICJ) should rule on a 200-year-old border dispute with neighboring country Belize.
A final resolution could see Guatemala, a former Spanish colony, gain legal control over territory and waters currently administered by Belize, once a British colony. The disputed area covers some 12,270 square kilometers (4,737 square miles) — about half of Belize.
The referendum is the result of a 2008 accord that would see the dispute over mainland, island and maritime territory sent to the court in The Hague, if the populations of Guatemala and Belize approve.
English-speaking Belize will hold its own referendum using the same question at an unspecified date in the future.
A previous joint referendum initiative, also based on the 2008 accord, failed to take place in 2013.
Read more: Oxfam ex-chairman and former Guatemala president to face corruption trial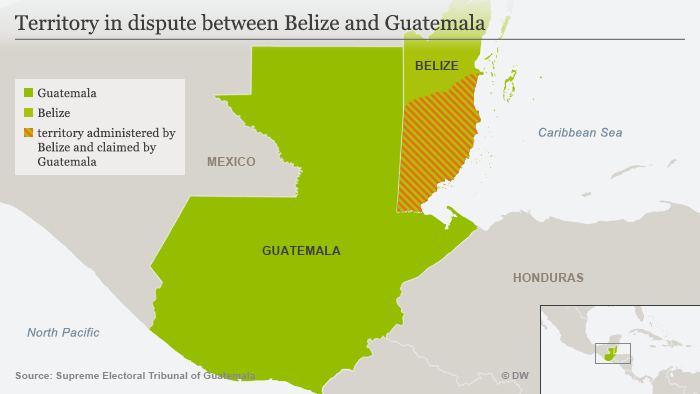 Big campaign, low turnout?
Guatemala's Morales has pushed for a broad turnout, telling Guatemalans that they have a "historic responsibility" to put the centuries-old dispute to rest.
The country's Supreme Electoral Tribunal (TSE) has been providing information to Guatemalans on what they need to do to vote.
However, analysts believe that Sunday's popular vote in Guatemala could be marked by turnout as low as 10 percent. Past referendums in the country have seen abstention rates as high as 85 percent.
No minimum threshold of voter turnout is required in Sunday's referendum, meaning that whichever option receives the most votes will win, Europapress reported.
Guatemalans will receive a ballot with the question:
"Do you agree that any legal reclaim taken by Guatemala against Belize over continental and island territories and any maritime areas corresponding to said territories be submitted to the International Court of Justice for definitive resolution and that it also determine the borders of the respective territories and the area of each part?"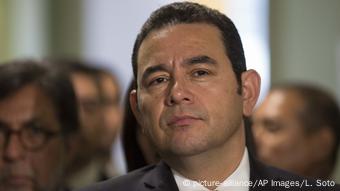 Morales has urged Guatemalans to vote, but his appeal has been hampered by his low popularity
Final vote results are expected in five days, the Guatemalan news agency AGN said, with partial results available Sunday night.
A yes vote far from certain
Over 400 national and international election observers are in place around 2,782 Guatemalan polling stations for Sunday's popular vote, with some 39,000 national police on duty.
Guatemala's Attorney General, Thelma Aldana, described Sunday's referendum as an "improvised" process that gives Belize an advantage due to its later voting date. She said she would not be taking part in the vote, and a spokesperson from the Justice Ministry urged other Guatemalans to stay home.
Read more: Guatemala: 'You need to be really persistent to get information'
Belize's Ambassador to Spanish-speaking Guatemala, James Murphy, remarked on Belizean TV that a "yes" win in Guatemala, as well as a future "yes" win in his own country, remained uncertain.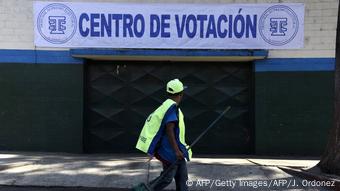 A municipal employee walks outside a voting center in Guatemala City
It all started in 1783
The territorial dispute between Guatemala and Belize can be traced back to 1768 and 1783, when the Spanish Empire gave the British Crown right of access in areas of current-day Belize, though Guatemala maintains that Spain retained sovereignty over these areas.
While Guatemala gained its independence from Spain in 1821, Belize became the British Crown colony of British Honduras in 1862, renaming itself Belize in 1973 and earning its independence in 1981.
Guatemala has voiced its sovereignty claim over the disputed area since the 1930s, and periodically threatened to invade the area throughout the 20th century.
Guatemala recognized Belize's independence in 1991 without dropping its territorial claim.
The dispute has escalated tensions between the two neighbors in the past; two years ago Guatemala mobilized 3,000 troops along the unmarked border zone after a Guatemalan teen was shot following a Belize border patrol coming under fire.