The Organization of American States (OAS) has called for calm after a border dispute between Guatemala and Belize has led to a buildup of troops following the shooting death of a 13-year-old boy, apparently involving Belizean soldiers.
"It is regrettable that the defense forces of Belize are the only army in the Latin America and Caribbean region that fires on unarmed civilians from another country," the Guatemalan Foreign Ministry said in a statement on Friday.
Guatemala said teenager Julio Rene Alvarado Ruano, his father and his 11-year-old brother were attacked Wednesday as they planted crops in the border community of San Jose Las Flores.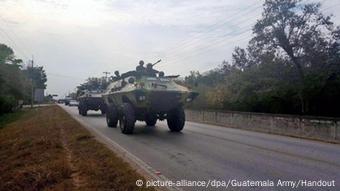 Guatemala and Belize have both spent troops to the border
Guatemalan President Jimmy Morales called it a "cowardly and excessive attack" that merited the "total condemnation of the Guatemalan state." Guatemala's ambassador to Belize has been recalled for consultations, and Belize has been urged to investigate and bring those responsible to justice.
Defense Minister Williams Mansilla on Friday called the deployment of 3,000 troops to the border "a preventive measure, it is not a declaration of war."
Belize response
Belize's Prime Minister Dean Barrow disputed the Guatemalan president's version of events. Belize said its security forces had been investigating illegal land-clearing in the Chiquibul National Park in western Belize and had detained a Guatemalan suspect. The authorities said a patrol had defended itself when it came under fire. Before leaving the area, the soldiers had found Alvarado Ruano's body, which was taken back to Belize City for an autopsy.
Barrow said Belize "has a long history and tradition as a peace-loving country, respectful of international law [and] human rights." In a press statement the Belize government commented that "the current amassing of Guatemalan troops in the border areas ... only adds volatility to the tensions."
In Washington, the OAS said it would investigate the death at the request of both governments, urging both sides to avoid "an escalation of tensions."
There has been a territorial dispute between Guatemala and Belize going back more than 150 years. Belize had been a British crown colony since 1862 under the name of British Honduras, but Guatemala claimed the territory on the basis of Anglo-Spanish treaties in the 18th century. In 1994, three years after Guatemala recognized Belizean independence, most British troops left Belize, but the British maintained a training presence until 2011. Then, the last British forces, except for advisers, left Belize.
Guatemala's presidential problems
The current president of Guatemala, Jimmy Morales, is a former comedian who has never previously held elected office. He was elected in January on an anti-corruption platform. Former President Otto Perez Molina and his vice president are in jail, facing prosecution on corruption charges.
Morales' first 100 days in office have not brought him much approval, according to opinion polls. He has little presence in Congress, where his National Convergence Front party controls just 11 out of 158 seats and he faces major challenges in terms of ongoing corruption, violence and economic weakness.
The president, a born-again Christian, has also come under fire for naming an operation against alleged gang members in poor areas "Operation Condor." The name harks back to the Operation-Plan Condor and the Sofia Operations Plan in Guatemala 40 years ago that were coordinated by military dictatorships in Latin America against social reformers and left-wing opponents. Thousands of people died or disappeared without trace following detention or arrest.
While attending a UN drugs summit in New York earlier this week, Morales also courted controversy when he responded to US presidential candidate Donald Trump's proposal to build a wall between the United States and Mexico to keep out migrants: "To the gentleman who wishes to build that wall, I offer cheap labor," Morales said in a Facebook Live interview. "We have good workers and with great pleasure we will build it for you - just tell us the dimensions and we can do it."
jm/sms (EFE, AFP, AP)