A request from Guatemalan prosecutors to lift President Jimmy Morales' immunity was granted by the country's Supreme Court on Monday.
"There appears to be sufficient evidence to allow the transfer of the case to congress," Supreme Court spokesman Angel Pineda said.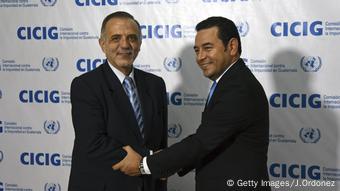 Morales (R) sought to expel Velasquez (L) after he announced a campaign finance probe into the president
The request now passes to Congress for a final decision. The Central American country's lawmakers must now form a five-member committee to examine the case against Morales and present their results to the rest of Congress.
In order to strip Morales of his immunity from prosecution, a two-thirds majority is needed in Congress. Afterwards, the president could be formally investigated and charged.
Suspect campaign financing
Last week, Guatemala's top court delivered another blow to Morales when they overruled his order to expel Ivan Velasquez, the head of an UN-backed anti-corruption commission in Guatemala.
Velasquez and chief prosecutor Thelma Adana announced they were seeking to have Morales' immunity lifted. Two days later, Morales ordered Velasquez's immediate expulsion from the country.
Morales is suspected of failing to declare over $800,000 (672,000 euros) in electoral campaign funds. The president has denied any wrongdoing.
The UN anti-graft body and local prosecutors have gained popularity in Guatemala over the past decade, garnering respect for tackling corruption as well as helping force the country's previous president, Otto Perez Molina, from office two years ago.
Morales was elected as a successor in 2015 based on campaign promises to clean up Guatemala's endemic corruption.
rs/bw (AP, Reuters)