Greece's coalition government has a tough start to the year as it seeks to clinch a rescue deal with its international lenders at the EU, the IMF and bankers in return for painful austerity measures.
Government spokesman Pantelis Kapsis said Tuesday that negotiations in the next three or four months with international debt monitors will "determine everything", including whether Greece escapes a disastrous bankruptcy.
Before these crucial talks, the government on Wednesday meets with labor unions and trade federations in an effort to reduce labor costs to make the country more competitive.
Greece is being kept afloat by an initial 110 billion euro ($142 billion) bailout fund agreed after investors, shocked by the country's huge budget deficit, demanded sky-high interest rates to continue buying Greek bonds.
An additional international rescue package was hammered out last October, after it became clear that the first instalment would not be enough. Greece, which has the highest debt burden relative to the size of its economy in the whole of the 17-nation euro zone, must persuade its creditors to take a 50-percent hit on the face value of their holdings of Greek debt. That deal has yet to be finalized.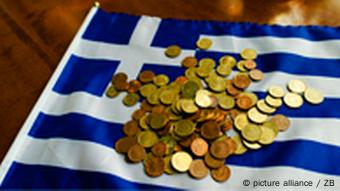 The Greek people face even more austerity measures
Race against the clock
"The loan agreement must be signed, otherwise we are outside the markets, out of the euro and things will become much worse," Kapsis told Greek television. Until now, Athens and its EU partners have repeatedly ruled out a euro exit.
Kapsis also said more austerity measures, possibly including new taxes, may need to be implemented. The economic recovery plan has already brought the Greek people tax hikes and pay cuts.
EU, IMF and ECB inspectors are expected in Athens mid-January to flesh out the new bailout plan.
Time is of the essence, as Greece has to repay a multi-billion euro bond at the end of March. Without new money from the euro zone and the IMF, Athens won't be able to make that payment.
Author: Gregg Benzow, Dagmar Breitenbach (AP, dpa, Reuters)
Editor: Nicole Goebel