In the shadow of tower blocks, a group of Kreuzberg district locals, tenant organizations, academics and activists have been fighting to make affordable social housing the law in Berlin. Driven by concerns about rising rents and displacement in a city where 85 percent of residents are tenants, they were the force behind today's Berliner Mietenvolksentscheid, or Rent Referendum Berlin.
"Public housing companies have increased rents as if they were private landlords," says Olof Leps, a member of the Mietenvolksentscheid steering committee.
Indeed, rents in Berlin have risen by up to 50 percent over the past five years. Low-income households are now spending as much as two-thirds of their salaries on accommodation. Many are being forced to leave neighborhoods they have lived in for decades. As the capital's population grows by tens of thousands each year, the chronic undersupply of affordable housing is getting worse. The city currently needs more than 120,000 affordable rental homes for people on low incomes who are at risk of poverty, according to Humboldt University urban sociologist Andrej Holm.
The law the activists want would establish a housing development fund to reduce rents in social housing relative to income, promote the construction of low-rent dwellings, purchase privately-owned housing stock, and modernize apartments for accessibility and energy efficiency - yet without drastic rent increases. In addition, the municipal housing corporations would be subject to greater public control, and tenants would be encouraged to participate in housing policy.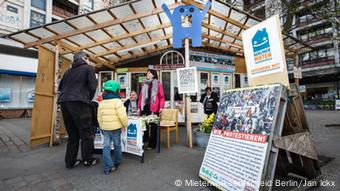 Locals have organized to push the referendum idea forward
Berlin's Senate says it, too, is concerned about rising rents, and has launched a support program for social housing as well as promising to issue permits for 20,000 new houses each year to address the undersupply.
But the Mietenvolksentscheid organizers argue that the city's government of Social Democrats is doing little to address an issue that its own policies helped create; since the 1990s, the Senate has cut social housing subsidies and sold off around 220,000 publicly owned homes.
"The Senate is currently almost exclusively relying on private investors and profit-oriented housing companies to create new homes that are too expensive for the vast majority of the population," says Leps.
Early success
The initiative jumped the first hurdle in early June when it presented a petition with 40,000 valid signatures to the city's Senate - 20,000 were necessary. Like the 2014 referendum that put a stop to the development of the defunct Tempelhof Airport, this plebiscite - which aims in the long term to secure at least 500,000 affordable homes in the capital - could see citizens again shape a major piece of state planning and housing policy.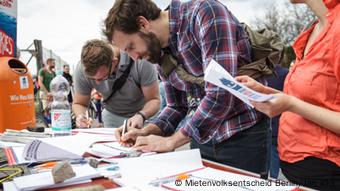 The group collected double as many signatures as needed to force the Senate to consider its idea
The city now has a few months to decide whether to go ahead and pass the proposed bill, but it's already looking like the proposal will only be implemented if it is approved in a referendum. That would require supporters to collect 175,000 signatures between January and April 2016 to force a popular vote, which could take place on September 18, 2016, the same day as Berlin state elections.
"It will be the decisive issue of the election," says Leps.
Cost dispute
According to a Senate estimate, implementing the law would cost 3.3 billion euros ($3.7 billion) from 2017 to 2021. The Mietenvolksentscheid argues the measures can be carried out for 1.14 billion euros, or 0.91 percent of Berlin's budget, and that they could be paid for in large part by returns from social housing loans, an expected public budget surplus and increasing the real estate transfer tax from 6 to 7.5 percent.
The city's finance minister, Matthias Kollatz-Ahnen, said in April that the proposed law was unaffordable and would create a big hole in the state budget.
"If the initiative's proposals are realized, other necessary projects, like the maintenance of schools or kindergartens, will be underfinanced," Oliver Turner, a spokesman for the Senate's urban development department, told DW.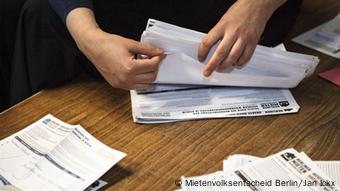 Activists will likely have to collect even more signatures next year
Berlin's senator for urban development and environment, Andreas Geisel, acknowledged that the referendum plan deals with an important concern but stressed that the existing municipal housing companies were committed to ensuring rents in social housing would continue to be affordable.
Leps is confident the plan will garner the 175,000 signatures required to trigger that vote, especially as the first petition fulfilled the quota in record time. The group believes Berliners are galvanizing around an issue that deeply affects the city.
"We don't want another situation like London or Paris, we don't want social housing ghettoes on the outskirts of Berlin," says Leps. "It's possible to build more social housing within the inner city ring, and to keep the social housing that already exists. We want to maintain Berlin's diversity."