On Monday, Spain's data protection authority (AEPD) has ordered Google to remove links to over 100 Spanish online articles that it considers potentially defamatory in a move that has stoked up concerns about freedom of speech and the role of online search engines.
Google will challenge the decision in a Madrid court this week, but should the decision go against the Internet giant, critics fear a dangerous precedent could be set.
The ruling has been issued because of Spain's freedom of press laws.
The Spanish data authority argues that it can only block access to such material by using such an injunction, as newspapers can legally refuse to comply with requests.

One of the articles is available on the El Pais website
This means that articles, which were published by official journals and major newspapers including El Pais, would still be available on the newspapers' websites, even if Google loses the appeal.
Shoot the messenger
Peter Barron, Google's director of external relations for Europe argues that as an intermediary, it has no responsibility for the content of the articles the search engine links to.
"We are disappointed by the actions of the Spanish privacy regulator," he said in a statement.
"Spanish and European law rightly hold the publisher of the material responsible for its content. Requiring intermediaries like search engines to censor material published by others would have a profound, chilling effect on free expression without protecting people's privacy."
Daniel Flachshaar of the German Pirate Party, which aims to protect free speech in Europe, agrees.
"It's generally a problem if Google is forbidden from linking to contents if the contents are still there," he told Deutsche Welle.
"In the end, it could come out that these articles don't get banned at all," he added. "Then Google would have been limited for no reason."
Search machine ambiguities
Mathias Lang, a German lawyer specializing in Internet-related issues, said the issue of search engines is still relatively unexplored.
"There are often, over many years, conflicting judgments from regional courts in Germany," he told Deutsche Welle. "As long as the supreme court makes no final decision, it's difficult to predict which way a case will go."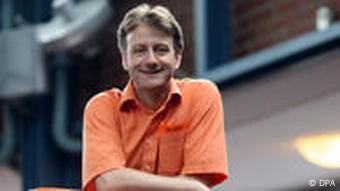 The German Pirate Party says this is not a good precedent
Thomas Gramespacher, publisher of MIR, an online publication on media and Internet law, believes the issue is something of a grey area.
"The problem comes down to whether Google is responsible for the content of its search results," he told Deutsche Welle. "It does represent snippets in those search results, and if those snippets have defamatory contents, then that could be a problem of course."
"It's a complicated legal situation. In principle, Google is not responsible for the contents of its search results in Germany," he noted.
"Google doesn't libel or defame anyone itself, especially because it never reproduces the entire contents. But there's always a discussion about whether Google can be held responsible for passing on libelous material."
Germany does have a law that makes someone punishable if they aid or assist a libellous accusation.
"In this case it could said that they have helped to spread libel, and so the question is how responsible is Google for that?" Gramespacher said.
But he does not expect the German data protection authorities to emulate their Spanish counterparts and hold Google responsible for its search results.
This is partly because neither German nor Spanish courts have not established whether or not the online articles in question are actually libelous.
"As long as Google has no concrete knowledge of an actual crime, then it wouldn't be expected to check beforehand," Gramespacher said.
Author: Ben Knight
Editor: Cyrus Farivar