To them, everything about rock 'n roll clearly spoke of the "Devil's Music" - from its roots in African-American culture to its hip-shimmying rhythms and less-than-pious lyrics.
Rock 'n roll emerged in the 1950s as part of a global cultural and generational revolution that stood the authority of the church on its head. In Europe and the US, this "godless" music sparked the ire of many Christian leaders. Many saw rock music as a sign of cultural and moral decline, and some even believed to hear hidden satanic messages in its lyrics. But even as fundamentalist preachers waged war against rock 'n' roll, the young generation was raising rock music to a new religion. Church pews emptied, and nightclubs and concert venues filled.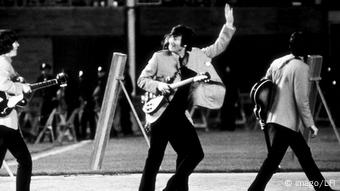 By the mid-1960s, John Lennon offhandedly remarked that the Beatles were "more popular than Jesus." Fans venerated their rock star idols, even erecting altars in their name. But soon the rebellion came full circle. Christian rock emerged and began drawing the young and pious. By 2014, Patti Smith, who once called rock her "only religion", would receive an invitation to perform at the Vatican. Drawing on interviews and archival footage, this documentary revisits more than 60 years of musical revolution.

Broadcasting Hours:
DW English
MON 17.06.2019 – 01:15 UTC
MON 17.06.2019 – 05:15 UTC
TUE 18.06.2019 – 09:15 UTC
SUN 23.06.2019 – 15:15 UTC
Cape Town UTC +2 | Delhi UTC +5,5 | Hong Kong UTC +8
San Francisco UTC -7 | Edmonton UTC -6 | New York UTC -4
Lagos UTC +1 | Cape Town UTC +2 | Nairobi UTC +3
London UTC +1 | Berlin UTC +2 | Moscow UTC +3

DW Deutsch+
TUE 18.06.2019 – 09:15 UTC
Vancouver UTC -7 | New York UTC -4 | Sao Paulo UTC -3