The long-running legal dispute between the German Federal Network Agency (BNetzA) and Google over the search giant's email service Gmail took another twist on Monday.
The German Higher Administrative Court (OVG) in Münster ruled on Monday that the case be referred to the European Court of Justice (ECJ), the EU's highest court. It means the dispute, which has rumbled on for close to a decade, may have several years left to run.
The issue at hand is the fact that the German Federal Network Agency believes Google's popular Gmail service — which has over 1 billion users — qualifies as a telecommunications service, and ought to be regulated accordingly by German and European telecommunications law.
Google disputes this designation, which a German Administrative Court in Cologne upheld in November 2015. Google appealed that verdict to the Münster court, which has now sent the case to the EU's highest court on the basis that the relevant sections in the German Telecommunications Act are based on identical provisions in EU law.
Google welcomed the court's decision.
To regulate or not to regulate?
In 2010, BNetzA approached Google about the issue and in 2012, despite protests from Google, BNetzA designated Gmail as subject to its regulatory remit.
Google filed an objection against this, which was rejected, and then took the case to the Cologne court. Monday's verdict effectively annuls the judgement made by that court in November 2015.
Read more: George Soros in stark Davos warning against US tech giants
Telecommunications regulators and policy makers have increasingly been lobbying to have relatively new communications services such as Gmail, WhatsApp and Skype regulated in the same way as more traditional telecommunication providers.
Google argues that telecommunications law should not apply to Gmail, as it is not a paid service and does not, like practically all regulated telecommunications entities, transmit signals via telecommunications networks it operates itself but rather uses an existing network — the internet.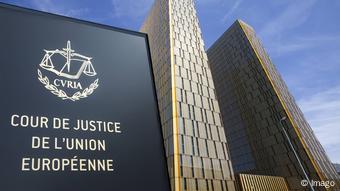 The European Court of Justice (ECJ) will now ultimately decide the Gmail case.
BNetzA argues that services such as Gmail operate on a commercial basis, even if they don't necessarily charge users, and that they have in many ways replaced more traditional teleommunications services in terms of how users interact with them.
A closely watched case
"The ECJ needs to clarify whether internet-based e-mail services provided via the open internet, which do not themselves provide internet access, need to be covered as transmission of signals over electronic communication networks," a statement from the court said.
Read more: EU finance ministers propose new tax code for internet giants Google, Facebook
"In addition, the question of how to interpret the term 'usually paid' should be answered."
The outcome of the case in the European court will be closely watched by tech companies when it is eventually ruled upon. Were the court to side with the German regulator, services such as Gmail would face far greater regulation and would be required to meet legal obligations around security and customer protection, as well as in several other areas.
aos/hg (dpa, AFP)