Following a 3-2 win in Sarajevo, Gladbach had already laid the groundwork for reaching the Europa League before running riot in front of home fans on Thursday.
New signing Andre Hahn set the thumping in motion after 10 minutes with the first shot of the night, capitalizing on an assist from Raffael. Ten minutes later, Raffael was again the provider, this time for a thunderous left-footed strike from the Swiss international Granit Zhaka. It certainly impressed his employers on Twitter.
Swedish striker Branimir Hrgota, fresh from a howler of a miss against Stuttgart on Sunday, then proceeded to steal the show. Hrgota scored a hat trick: two before the break, and one late in the match to split a brace from substitute Thorgan Hazard. Hazard's second, the Foals' seventh, was a curling left-footed free kick of such quality that it might have reminded the Gladbach faithful of recently departed set-piece specialist Juan Arango.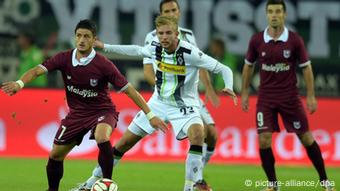 German international Christoph Kramer was back in the starting line-up
Borussia Mönchengladbach, one of Germany's most successful sides at home and abroad over the years, had waited almost two decades to return to European competition. A German Cup win in 1995 last booked them a ticket to what was then called the UEFA Cup for the 1995-96 season. Two years ago, the Foals fell in the qualifying stages for the Champions League, but, this season, coach Lucien Favre can take his side back into the Continent.
Gladbach will join the Bundesliga's Wolfsburg in Europe's secondary club competition; fellow hopefuls Mainz failed to clear the qualifying rounds.
The groups for the Europa League will be decided on Friday, a day after UEFA provided the four German hopefuls with manageable groups for the Champions League.