A life-size bronze sculpture entitled "L'homme qui marche I" ("Walking Man I") by Swiss artist Alberto Giacometti has been sold by the Sotheby's auction house in London for 65 million pounds ($104.3 million). This is the highest price ever paid for a work of art at an auction.
According to Sotheby's, it only took eight minutes of "fast and furious" bidding between ten prospective buyers before the piece was sold to an anonymous phone bidder. It had been estimated to sell for 12 to 18 million pounds.
The thin sculpture depicts a man in mid-stride with his arms hanging at his side. Commenting on the price achieved in the sale, Helena Newman, vice chairman of Sotheby's impressionist and modern art department worldwide, said, "The price is a reflection of the extraordinary importance of this exceptionally rare work, and the only life-time cast of this iconic subject ever to have come to auction."
The piece broke the price record previously held by Picasso's 1905 "Garcon a la Pipe" ("Boy with a Pipe"), which had sold for $104.2 million at a 2004 New York auction.
German bank's giant asset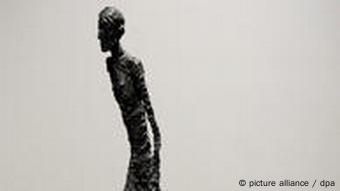 The sculpture is considered one of the most recognizable pieces of modern art
Cast in 1961, "L'Homme Qui Marche I" belonged to the art collection of Germany's Dresdner Bank before coming into possession of Commerzbank when it took over Dresdner Bank in 2009.
Following the unexpected price record, Commerzbank is "very happy about this big success," a spokeswoman for the bank told Deutsche Welle. Proceeds from the sale are to go towards supporting Commerzbank's foundations and a number of selected museums.
"Promoting cultural education is one of the key aims of the Commerzbank foundations," said Klaus-Peter Mueller, Chairman of the Supervisory Board of Commerzbank and Chairman of the Board of Trustees of the Commerzbank Foundation."
Established in 1970, the Commerzbank Foundation has an endowment capital of 53 million euros ($73 million) and is the most significant of all foundations operated by the bank. In 2008, the Commerzbank Foundation committed funds of approximately 1.5 million euros, 35 percent of which went to art and cultural projects.
Commerzbank is set to restructure the art collection of the former Dresdner Bank as part of the ongoing integration process. Around 100 outstanding modern and contemporary works will be made available to museums in Frankfurt, Dresden and Berlin on a permanent loan basis.
"We want as many people as possible to be able to see the works in the art collection of the former Dresdner Bank, and are keen to support the museums in expanding the focus of their collections," said Martin Blessing, CEO of Commerzbank.
Author: Eva Wutke
Editor: Kate Bowen