Campaigning in the Ghanaian elections came to an end on Monday, Ghanaians will be casting their ballots on Wednesday.
On the campaign trail, John Mahama, the incumbent president, danced with his fans, spoke to women in the market, and opened new schools. He speaks Haussa and the local languages Akan, Ga and Gonja. Mahama wants to be seen as man of the people. "He is like a pal," Burkhardt Hellemann, head of Germany Konrad Adenauer Foundation in Ghana's capital Accra said. "He speaks a language that the people understand, that's how he scores."
57-year-old Mahama was born in the country's Northern Region, where still enjoys strong support. His National Democratic Congress (NDC) was returned to power under John Atta Mills in 2008 after a period in opposition. Mahama became president on Mills' death in July 2012 and was subsequently elected for a full term in office in December 2012.
Mahama is now running for a second term. "On the seventh of December, the destiny of this country is in our own hands. Whether we want to turn back the clock of progress or we want to continue moving forward and making progress, it is in your hands, I have done my best, the rest is left to you. But I know you will make the right decision. It is simple it is logical" he said.
Promises of industrialization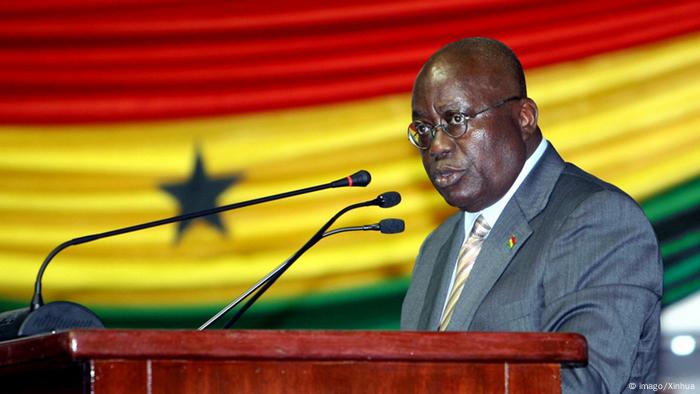 Nana Akufo-Addo may benefit from Ghanaians' desire for change
Nana Akufo-Addo, the opposition leader, doesn't use that sort of rhetoric. He has campaigned twice for the post of president, in 2008 and 2012. On both occasions, he was regarded by some as a rather remote figure. "He came across as arrogant intellectual. The contact to the citizens was very difficult for him," Hellemann said.
But Akufo-Addo makes big promises.
"We are going to build a new harbor and the landing site and storage facilities that we need to get the fishing community on all the coast working. We are going to do it. We have a program on national re-development and expansion involving the industrialization of our country. Every district is going to have one factory," he said. In addition, every village in Ghana's Northern Region should get a reservoir so it can cope better during the dry season, Akufo-Addo promised.
Mahama and Akufo-Addo faced each other in the previous elections in 2012 when Mahama won by a slim majority. The outcome this Wednesday could be rather different, Clement Adje, an election observer, told DW that people the people he has been speaking to say they want change. "Many are suffering from the economic situation," he said.
Distant but popular
Besides promising progress in Ghana's industrialization, Akufo-Addo pledged to fight corruption, another reason why Ghanaians could cast their ballots in his favor, Adjei said many people believe that government officials are corrupt. They think the reason why they are suffering is because public money is not being spent on their well-being. "When Akufo-Addo says he is going to solve that problem, they believe him."
Akufo-Addo, a 72-year-old lawyer, was minister of justice from 2001 until 2003 when he became foreign minister. Both Akufo-Addo and Mahama are veteran politicians. Both stem from rich and influential families and studied or worked abroad, before climbing the political ladder.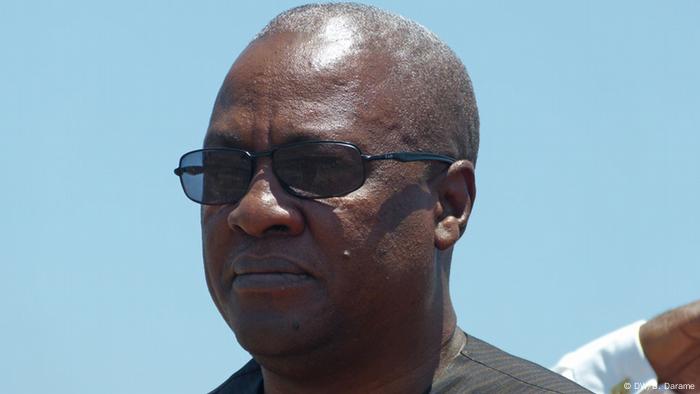 John Mahama says his government is an example of fiscal discipline. He promises that tackling corruption will be a priority if he is elected
Democratic role model
In 1957 Ghana became the first African country to gain independence from colonial rule and is seen as role model for democracy on the continent. More recently it was also regarded as an economic role model. In 2011, Ghana's economic growth was a healthy 14 percent. Yet over the last three years growth rates have declined and youth unemployment in particular has became a problem which President Mahama seemed unable to solve.
Despite Ghana's reputation as a stable democracy, glitches were reported in early voting ahead of polling day. Names were missing on the list of voters. But the head of the EU Election Observer Mission Tamas Meszerics believes all will go well. "Elections are always a learning process in every country. This is not unique to Ghana so in that respect I have every trust that on December 7 this will be a smooth operation."
Isaac Kaledzi in Accra contributed to this report