In addition to John Dramani Mahama, former vice-president and initial replacement for the late President Mills, seven other candidates are contesting the presidency. In late November all eight signed a peace pact pledging to ensure a peaceful electoral process.
Ghana has the reputation of being one of Africa's few stable democracies. However, the previous election in late 2008 was marred by a number of violent incidents.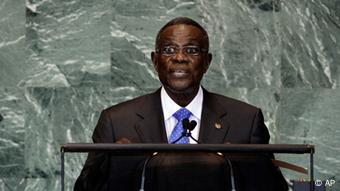 Late president John Atta Mills led Ghana from January 2009 to July 2012
As a result, a conference was held in Accra the following year to analyze events and try to establish new standards and practices for African electoral commissions.
The signing of the peace pact, known as the Kumasi Declaration, was witnessed by two former presidents, Jerry Rawlings and John Kufuor. With less than a week to go, there are fears of violence between different groups of supporters, mainly those backing the ruling National Democratic Congress (NDC) and its candidate John Dramani Mahama and those backing the largest opposition party, the New Patriotic Party (NPP), whose candidate is Nana Akuffo-Addo.
Fears of fresh violence
The Odododiodio constituency, in the capital Accra, witnessed clashes in August which left about a dozen people injured. They included Ursula Owusu, a senior female activist with the opposition NPP. She had been accused of trying to stop supporters of the ruling NDC from registering to vote.
Police had to intervene to restore calm following clashes between the supporters of the two parties. The Odododiodio constituency is one of several areas identified by Ghanaian authorities as potential flashpoints in next Friday's election.
Abraham Commey is a young resident of Odododiodo who supports the NDC and would like to see President Mahama confirmed in office. He told DW that he would like Ghana to follow the example of other countries where elections pass off peacefully.
Abraham Commey (left) and Benjamin Quaye say political rivalry should be peaceful
"Those fighting, they don't understand politics," he said. "If we say politics, it's like you belong to one side and I belong to a different side. You are fighting for your own and I am also fighting for my own, but it's not a real fight. "
Abraham is friends with opposition supporter Benjamin Quaye. Benjamin is optimistic that "there will be a peaceful election. There will be no fight, no trouble."
Moral accountability
Political analyst Romeo Adoglah believes the peace pact signed by the presidential candidates will make the political leaders morally accountable for their actions during the election. "I think that was a very crucial event. Everybody understood how important it was because we've reached a certain crossroad where it could make or break the nation," he told DW.
Adoglah expects the election to be largely peaceful but says the risk of violence remains. "Just last week, the police identified over a thousand flashpoints across the country. What the police need to do is to have the right mechanisms in place because, no matter what you do, some people will want to cause trouble."