After a boom in the 1990s, the fitness industry seemed to run out of energy. But the ever growing wellness trend in recent years has given the fitness industry a whole new lease of life.
Last year, the number of fitness studios rose by almost 5 percent in Germany. Big, bold, and glossy, the large chain-studios are selling a brand, as much as the promise of health and well-being.
A wave of chains has flooded the German market in recent years. Ambitious marketing strategies are needed, as competition among fitness clubs has heated up. But Dirk Otten, the marketing director of Elixia, one of Germany's leading fitness chains, is more than optimistic about the future.
"We are expecting big growth within the next years," Otten said. "The whole market is changing in that we are moving away from the former idea of fitness and are going in the direction of healthiness and vitality."
Health clubs need to offer something unique
Health clubs are now as much a brand product as are cars or mobile phones. While only 12 percent of all clubs are part of a group, these chains have almost 30 percent of all members. So to survive, individual clubs need to offer a unique product.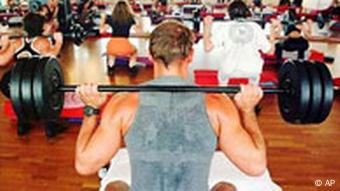 Pump combines aerobics and weight-lifting
High-end independent clubs are for people who want to indulge themselves in a luxurious, tranquil, wellness palace. Members can swim in the pools, sweat in the saunas, soak in the Turkish baths, go to a relaxation class, have a massage -- and lift weights. Then, they relax some more on the Feng Shui designed rooftop terrace or in the winter garden.
Erik Thomann, marketing director of a Berlin club called Ars Vitalis, said it is more difficult to make a living through fitness and wellness these days. But that it is possible by catering to those willing to spend a little more on indulging themselves. Membership at Ars Vitalis costs twice as much as the average premium chain club membership, and seven times more than the no-frills chains.
"The people who are here are not only weight-lifting, they want to develop as a whole person -- in soul, body and mind," Thomann said. "It is a smaller target group, but I think in times of economic stagnation, there are still people who earn enough money to afford this."
Introducing women to the fitness world
Finding and exploiting new niches is essential for the survival of any club. Although chain operations are concentrated mainly in the big cities, one of the newest chains on the market is instead opening smaller clubs, in smaller cities.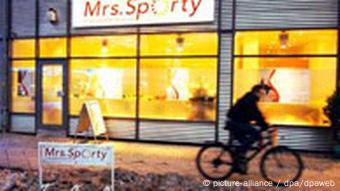 Mrs. Sporty is geared towards women
Its target market is women who are unfamiliar with the health club culture. Despite its somewhat tacky name, Mrs. Sporty is supported by German tennis star, Steffi Graf. While other women's studios are losing popularity, last year Mrs. Sporty opened 23 franchises across Germany.
Due to their modest size, the clubs can make a profit with just a few hundred members, and Mrs. Sporty has already signed up more than 3,000.
Fitness should be a part of Germany's health reform
It's estimated that workplace absence caused by illness costs the German economy 45 billion euros ($57.6 billion) per year. With the annual cost of healthcare in Germany estimated at 140 billion euros, making people healthier and preventing illness is more crucial than ever.
Human Resources is a Berlin company that initiates joint ventures and co-operation between the health industry and the state health insurance system. The company's director, Pay Petzold, said he's just closed a deal between two major insurance companies and selected health clubs, to embark on a pilot prevention scheme.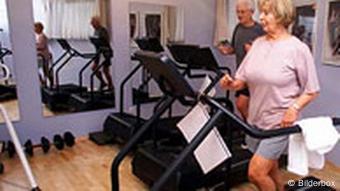 Fitness studios are no longer just the domain of the young
The insurers have agreed to invite all their members to join a five-week long, weight-loss competition. They will get free use of a health club, under the guidance of fitness instructors and diet counselors.
With two thirds of Germany's population overweight, the extra pounds are a major headache for the country's health bill. Petzold said he expects 30 to 50 percent of all participants to actually join a health club after the competition ends, and thinks his plan has a better chance of success than others tried before.
"The clear difference here is that it wouldn't depend on people having to take the initiative and probably visiting the club once every so often," Petzold said. "Instead, it's driven by the health insurers and the responsibility for its success rests on their shoulders."
Over 70 million Germans have health insurance, so the scheme's potential is huge. If successful, the next step would be for insurance companies to actually pay for health club memberships.
Many in the business predict a dramatic shift in the entire German health system -- to a prevention-oriented one, jointly run by state insurers and the private health industry. And with this in mind, Dirk Otten at Elixia is convinced his fitness chain has a bright and healthy future -- because health is definitely big business these days.