Germany on Monday blamed Hamas for the outbreak of violence in the Gaza Strip and urged the Islamist group which has controlled Gaza since 2007 to stop firing rockets so that Israel's attack on the territory could end.
"It is the legitimate right of Israel to protect its civilian population and to defend its territory," German government spokesman Thomas Steg told a press briefing in Berlin.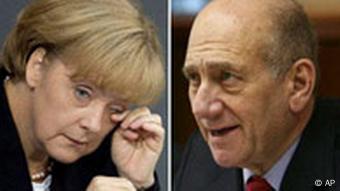 Merkel, left, agrees with Olmert that Hamas is responsible for the latest escalation
German Chancellor Angela Merkel and Israeli Prime Minister Ehud Olmert had agreed in a telephone conversation that responsibility for the escalation lay "clearly and exclusively with Hamas," Steg said. "Hamas has unilaterally broken the ceasefire agreement."
Merkel also urged Olmert to ensure that steps were taken to avoid civilian casualties and allow urgently needed humanitarian supplies across the border into Gaza, Steg said. He added that the chancellor believed the conflict could only be resolved through a political process at the end of which there was a two-state solution.
UN chief calls for immediate ceasefire
Germany's support for Israel, stronger than that shown by some other European countries, comes as the Jewish state launched deadly air strikes in the last three days that have killed more than 300 Palestinians and triggered international condemnation.
UN Secretary-General Ban Ki-moon admonished world leaders on Monday for not doing enough to halt what he called an "unacceptable" level of violence in Gaza and press for a long-term political solution.
The French foreign ministry said European Union foreign ministers will meet in Paris on Tuesday to discuss the Israeli attack on Gaza.
The German government's stance on the Gaza violence was echoed by Washington with the White House saying Monday Israel had assured the US that it was not looking to "retake" the Gaza Strip through its military operations against the radical Islamic organization Hamas and was only acting to defend its citizens.
"The United States understands that Israel needs to take actions to defend itself," said spokesman Gordon Johndroe.
"Hamas has once again shown its true colors as a terrorist organization that refuses to even recognize Israel's right to exist," he said, adding that Hamas had to agree to respect a "sustainable and durable ceasefire."
Deep anger on Arab street
More than 300 Palestinians have been killed and many more wounded since Israel launched air strikes in the enclave on Saturday, eight days after Hamas unilaterally ended a six-month truce. Israel says its southern towns have been under nearly daily rocket fire and mortar shelling from the Gaza Strip ever since.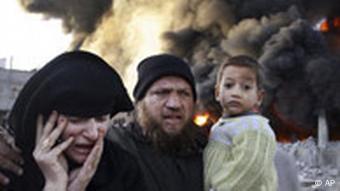 Aid groups have warned of a worsening humanitarian disaster inside Gaza
The UN has said almost 60 of those killed in the Gaza Strip are civilians. Doctors in Gaza say they are struggling to treat hundreds of injured and lack essential medical supplies. Israel has massed forces along the border with Gaza and has declared the area around it a "closed military zone."
Johndroe also confirmed that King Abdullah of Saudi Arabia had told outgoing president George W. Bush of the deep anger in the Arab world about Israel's actions.
"The president's message to King Abdullah, his overall message is that we want to see the violence stop, but in a way that leads to a durable and sustainable cessation of violence. We can't have the violence stop now only for it to start up again," said Johndroe.
Palestinian Authority President Mahmoud Abbas has called on Hamas to engage in dialog to find a solution to the situation.
Anti-Israeli demonstrations grow
Meanwhile, more than 1,000 people demonstrated peacefully in Berlin against Israel's military operation in Gaza. The action was mounted by several Arab organizations. Ahmed Muhaisen, chairman of the Palestinian community in the German capital, said the protesters wanted to express their solidarity with the Palestinian people.
In the Middle East, there have been bigger, widespread protests with tens of thousands of demonstrators taking to the streets of Tehran.
Tens of thousands of Lebanese Shi'ite protesters, chanting "Death to America, Death to Israel," massed in Beirut on Monday. In the Jordanian capital, Amman, about 20,000 people staged a demonstration organized by the mainstream Muslim Brotherhood, while in Cairo 1,000 people rallied to show solidarity with Gaza Palestinians.
Turkish demonstrators in Istanbul shout slogans as they protest against Israel's Gaza raids
In Athens, police broke up demonstrations with tear gas while demonstrators gathered for a second day outside the Israeli embassy in London on Monday to protest against Israel's air raids in Gaza.
Israel said Monday that its campaign against the radical Islamic Hamas movement would be further expanded if necessary. Defense Minister Ehud Barak spoke of an "all-out war" with Hamas.
"This operation will be widened and deepened as much as is required. We know what the goals are and we are moving toward them with determination," Barak told a special session of Israel's parliament, the Knesset, in Jerusalem.
Barak said the operation was not the result of "revenge feelings" or "fury," but came after meticulous preparations, which were "carried out with a heavy head and responsibly."
Barak reiterated that Israel held Hamas responsible for the offensive, arguing rocket attacks from the strip had continued and intensified despite Israel's unilateral pullout of all its troops and settlers from the strip more than three years ago.
Expert criticizes European failures in Mideast
German Middle East expert Jochen Hippler told DW-WORLD.De that the new escalation in violence would not help to bring about peace -- even though Israel's aim to stop the rocket attacks was legitimate.
Hippler, a researcher at the University of Duisburg-Essen's Institute for Development and Peace (INEF) also criticized Europe's stance in the Middle East in recent years.
"Europe has made a couple of mistakes in the last couple of years," he said. "Instead of respecting the elections (that brought Hamas to power) and dealing with someone they don't like, they've helped to trigger a kind of civil war among Palestinians. And you can't have peace with an opponent that is at war with itself."
He said the EU could help to resolve this and help to reduce tensions by bringing Hamas to the table.