The Eurovision Song Contest - the pop music battle of the countries that takes place every year in late May - will be held this time in Oslo, Norway. Germany has placed its bets on a young lady by the name of Lena Meyer-Landrut who, in a weeks-long nationwide televised talent contest, came out as the winner of a people's-choice search for "Our Star for Oslo." In the process, the nation chose not only who would take the flag to Oslo, but also what she would perform: a song called "Satellite" and a recent Number One hit in Germany.
Although only 18 years old and a complete newcomer, Meyer-Landrut has already written German chart history, placing an unprecedented three debut songs within the Top Five upon release. Now all bets are on that she'll give the country a fighting chance at the upcoming Eurovision finals. Deutsche Welle spoke to the busy young woman currently juggling super stardom with school-leaving exams.
Click on the link below to listen to DW-RADIO's Hits in Germany, featuring Lena Meyer-Landrut.
Deutsche Welle: Can you fathom everything that's happened to you over the past several weeks or do you have to pinch yourself sometimes to remind yourself that it's all real?
Lena Meyer-Landrut: When I read about myself in the newspaper or see myself on TV, it still seems very unreal. It's pretty hardcore when people come up to you on the street. But to be honest, I don't really think about it much, unless I'm surrounded and there's a lot of commotion.
What does it feel like to be recognized by strangers on the street?
Usually I enjoy it. Most people act shy, a little reserved, and ask very nicely. It's pleasant. Then I don't mind giving autographs and letting them take pictures. I think it's really cute.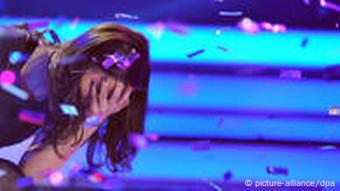 Getting to be Germany's choice for Oslo was a weeks-long ordeal but never routine
You had several live performances on your way to the finals. Was it always nerve-wracking or did it gradually become routine?
As a candidate it never became routine before a show. It was always a new thrill. The only thing that became routine about it was that you knew the drill and you knew the people. I felt at home right from the beginning, arriving with the first 10 candidates. The atmosphere was cozy and cordial from the start. Then over time we grew closer as we got to know each other even better.
Now it probably feels like you've landed on some other planet.
Yes, these things happen, and somehow you're involved. But you don't really process it all until later - usually at night in your hotel room or when you're on the train on your way home or when you're talking about it with your friends and family. Then you can unload everything you've experienced.
What are you like in private? Are you an extrovert or are you sometimes a little shy?
No, I wouldn't describe myself as shy. I'm very open and cheerful.
You'll represent Germany at the Eurovision Song Contest at the end of May, but first come your school-leaving exams. Is that your number one priority?
Yes, definitely, it's at the top of my to-do list. I just spent a few days at home studying for them and next week I'll do the same. Fortunately there's some time for me to concentrate now because there aren't a lot of show commitments at the moment. I think I'll be fine.
Graduating from high school is a turning point. Isn't it a bit of a pity that you can't enjoy it in full but instead have to divide yourself in two?
Yeah, for example I missed the "theme week," which made me sad, but on the other hand I experienced something else which will be a great memory. I'll be able to go to the prom. No one's going to tell me I can't go to that. At least I hope not!
What do you want to do after graduating from high school?
I'm not entirely sure. I've always wanted to study acting so I'll probably do that if time allows. I'm not fixated on doing music my whole life. We'll see what comes along.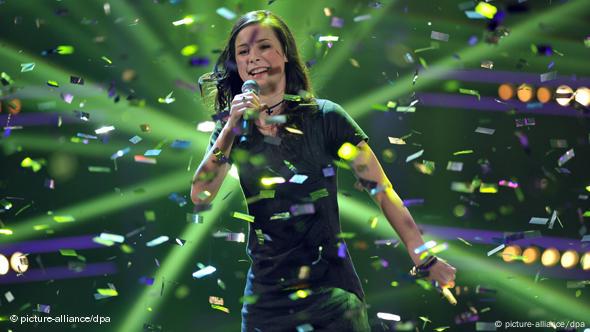 The nation's hope for Eurovision, Lena Meyer-Landrut has had brief but intense experience in the limelight
How did you find your way to music?
I sang in the school band four or five times in the auditorium with Grandma and Grandpa in the audience. So I figured since Grandma and Grandpa were clapping and thought it was good, I'd go find people who know the business. I went to the audition, sang and left. I didn't expect anything. In fact I'd completely forgotten I'd been there. Then I got the call and everything was great.
Many winners of televised talent shows are here today, gone tomorrow. Do you think the hype will settle down at some point?
Yes, of course! It won't be like this my whole life. It's like this right now and it's absolutely fantastic. I'm very grateful for it. It'll pass at some point.
Soon you'll be traveling to your big destination - Oslo. How does that make you feel?
Oslo is not my final destination. Oslo is a big oak tree along the path of my life. Oh, doesn't that sound nice. It must be from a great poet. I'm really looking forward to Oslo. I'm excited about it. It's going to be huge, with lots of different people, lots of new impressions. It'll be cool.
What will happen should you win?
I have no clue what the impact would be. I'd probably be singing "Satellite" my whole life. Then it would be a huge party next year for Eurovision in Berlin, right? Real hardcore. I don't think it's so important whether I win or don't win. I think we're going to the Grand Prix with a good feeling. We're all behind it. Apparently a big portion of Germans are backing me. And that in itself is a good thing. I don't think we'll have to be ashamed of my performance. Otherwise, I have no idea. We'll see what happens.
Interview: Marc Muehlenbrock (df)
Editor: Rick Fulker