The president of the German parliament on Friday called on Germans to actively stand up against all forms of right-wing extremism, speaking on the 67th anniversary of the liberation of the Auschwitz concentration camp.
"It is these people who set an example and demonstrate courage," Bundestag President Norbert Lammert told lawmakers in a speech commemorating International Holocaust Remembrance Day. The memorial day falls on the anniversary of the liberation of Auschwitz by Soviet forces on January 27, 1945.
In his speech, Lammert mentioned the series of murders blamed on a neo-Nazi cell uncovered in Germany last fall, saying that hate and violence were unacceptable. He also cited current research that shows 20 percent of German citizens are latently anti-Semitic.
"In Germany, that's 20 percent too much," he said.
Warsaw survivor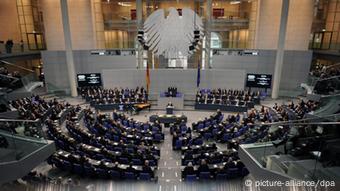 Holocaust Remembrance Day has been marked since 1996
The keynote address in the Bundestag was from literary critic Marcel Reich-Ranicki, 91, who grew up in a Jewish family in Poland and was imprisoned in the Warsaw ghetto. Both his parents were murdered in the Treblinka extermination camp.
"The deportation of Jews from Warsaw to Treblinka that began on July 22, 1942 lasted until mid-September," Reich-Ranicki said. "What was called the 'relocation of the Jews' was simply... a deportation, the deportation from Warsaw. It had only one goal, it had only one purpose - death."
After his speech, the audience remained silent for one minute before applauding the speaker.
German President Christian Wulff, Chancellor Angela Merkel and representatives of various state organizations and victims' groups also took part in the commemoration.
The Bundestag has commemorated Holocaust Remembrance Day since 1996.
Author: Andrew Bowen (AFP, dpa)
Editor: Martin Kuebler