The files, requested by researchers and media, will be released sometime this week, according to Marianne Birthler, head of the authority that researches the GDR's secret police.
The West German parliamentarians' names were listed in records as "unofficial employees" or contacts for the German secret police, or Stasi. Five sets of records concern politicians who knowingly cooperated with the Stasi. The intelligence service's use of cryptic codes makes it unclear if the 11 other politicians knew they were delivering information to the secret police.
Birthler, however, said the new records do not shed much new light on West German politicians' activities.
"We are releasing files on 16 parliamentarians who had codes written next to their names," she told German public broadcaster ZDF. "They could have been informal employees, they could be people who were used or people about whom the Stasi collected information."
William Borm (Free Democratic Party), Gerhard Flämig (Social Democratic Party), Julius Steiner (Christian Democratic Union), Leo Wagner (Christian Social Union) and Karl Wienand (SPD) were named as the five politicians accused of working for the National Security Service of the former German Democratic Republic.
Possible Stasi influence on vote of confidence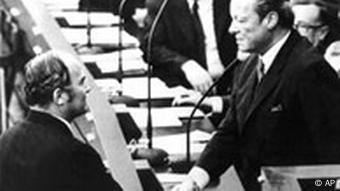 Brandt (right) won a vote of confidence by two votes in 1972
The Stasi is said to have influenced Steiner and Wagner during a 1972 no confidence vote for Chancellor Willy Brandt (SPD). He stayed in power when the final vote tally left his opponent two votes shorts of the 249 necessary for a change of government.
An additional 11 people were notified of the existence of their records in the Stasi's "Rosenholz" files, which were kept on foreign contacts, and their files will also be released in the coming weeks if they do not request to keep them closed.
The researchers who requested the files hope to gain new insights into the relationships between West and East Germany, including details on Brandt's visit to Erfurt in 1970 and a 1972 contract concerning how the two German states would fundamentally deal with each other.
Final report expected in 2007
Birthler added that neither she nor the department she heads has held back any information.
The German weekly newspaper Die Zeit had accused Birthler of dissolving a task force working on the Rosenholz files and delaying its report after as many as 43 West German politicians' names were reported to be listed.
Birthler called the claims "absurd" and said her office is sticking to its plan of releasing a final Rosenholz report by 2007.
The Rosenholz files, which were given to Birthler's office by the United States in 2003, contain microfilm versions of some 317,000 personal records and 77,000 files of GDR operating procedures, according to the Stasi record keeping office.