"In my opinion our contribution is excellent," Jung said in Vilnius, Lithuania, where 25 NATO defense ministers gathered for a two-day meeting on Thursday. "We are the third largest contributor."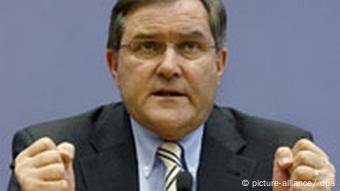 Jung defended Germany's contribution to the mission
Germany has 3,200 peacekeeping troops deployed in the relatively peaceful northern Afghanistan. The US has 15,000 troops and Britain has 7,000. The NATO-led ISAF force has altogether 43,000 troops in the country.
Germany agreed on Wednesday to deploy about 250 combat soldiers as part of a NATO Quick Reaction Force. The troops would be stationed in the north, but could be called to help in other regions in an emergency.
The US insists, however, that the real concern isn't about troop numbers, but the refusal of some countries to allow troops to be stationed in the more volatile southern Afghanistan. Four NATO member states -- the US, Britain, Canada and the Netherlands -- are doing nearly all of the fighting against Taliban rebels in the south. Those countries want reinforcements from their NATO allies.
Pressure is on
If more countries don't begin sharing the burden of combat in Afghanistan, US Defense Secretary Robert Gates warned late on Wednesday that NATO could devolve into a "two-tiered alliance" clouding NATO's future.
"My view is you can't have some allies whose sons and daughters die in combat and other allies who are shielded from that kind of a sacrifice," he told the US House of Representatives Armed Services Committee.
US Secretary of State Condoleezza Rice also kept up pressure on reluctant allies during a trip with British Foreign Secretary David Miliband visiting troops fighting the Taliban.
"Frankly, I hope there will be more troop contributions and there needs to be more Afghan forces," Rice told reporters Thursday.
Canada considering pullout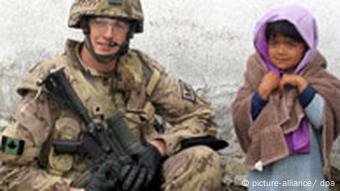 Canada has called for more troops in Kandahar
Canada, which has 2,500 troops in the Kandahar province, has said it might pull out entirely if other countries don't help. Canada's minority government has scheduled a parliamentary vote of confidence in late March on whether to prolong its military mission in Afghanistan, officials said on Wednesday.
"What we want to see is more of a one-for-all approach, that includes of course burden sharing in the south," Canada's Defense Minister Peter Mackay said before the meeting in Lithuania.
In particular, the US is applying pressure to Germany, France, Italy and Spain to send troops to southern Afghanistan.
France could send more troops
There's general recognition among NATO defense ministers that there's a shortfall of troops in Afghanistan. But there's no indication that the meeting on Thursday and Friday in Lithuania will produce further commitments.
US wants more countries to send troops to South
The talks in Vilnius are "not about getting commitments from ministers to send troops," said NATO spokesman James Apparthurai. But he added that "hopefully we will see nations come forward with further offers as quickly as possible."
In Paris, a spokesman for President Nicolas Sarkozy said France was considering sending more troops to Afghanistan. He did not confirm that 700 paratroopers would be deployed to the south, as was reported by French media.
"These are issues that are being examined," Sarkozy's spokesman David Martinon said of possible new deployments. "To my knowledge no decision has been reached yet."
Mending fences
NATO Secretary-General Jaap de Hoop Scheffer tried to play down talk of a damaging split within the organization.

Meeting of the ministers
"I do not see a two-tier alliance, there is one alliance," Scheffer told reporters as he arrived in Vilnius.
He specifically thanked Germany for its contributions to the Afghanistan mission and said that other governments should save discussions of reinforcements for private sessions.
"I believe that Germany is doing a good job. I know the German parliament wants some limits (on where it deploys its troops). I want maximum flexibility in Afghanistan with all allies," Scheffer said.
Dutch Defense Minister Eimert van Middelkoop said that there was a "healthy tension" over the issue, and that Gates was using his "right to remind the alliance" of the problem.
More than manpower needed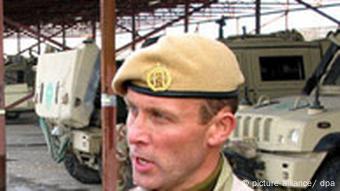 Troops from 40 nations are part of the NATO force in Afghanistan
Besides troops, NATO also lacks heavy transport aircraft, helicopters and unmanned spy aircraft, ministers said on Thursday. Ministers also agreed that NATO is in Afghanistan for the long haul.
While many participants expressed "cautious optimism" over the progress in bringing stability to the country, there was also an agreement that more troops, equipment and training of Afghan military would be necessary before NATO handed over the mission to local security forces.
Analysts at the NATO Defense College issued a report in January -- based on the conclusions of a seminar of NATO officials, military commanders, diplomats and security experts -- which highlighted the high stakes placed on Afghanistan.
"From a US perspective, Afghanistan is a 'make or break issue'," the report said. "A perceived failure would be blamed primarily on insufficient European engagement in the region."