After canceling meetings on Friday to focus on relief proposals, Schröder said Germany would dip into its oil reserves to help avoid shortages in the United States in the wake of hurricane Katrina. He did not specify how much of Germany's oil reserves of some 23 million tons of fuel he would offer.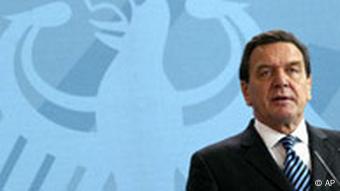 Gerhard Schröder
The French government announced on Friday that the 26 members of the International Energy Agency (IEA)
unanimously support measures calling for member states to release 60 million barrels of oil per day from their strategic reserves for one month in order to counter fuel disruptions caused by the hurricane.
In addition to calling on oil companies to lower prices, Schröder also offered help in the form of drinking water, medicine and emergency personnel.
"We can help to accommodate those left destitute. We can help purify water, send medicines like antibiotics and vaccines. We have experts who can help restore water and electricity supply," he said in a press conference. "These are all things that we can supply at short notice."
Many nations including France, Belgium, Australia, Japan and Venezuela have also offered aid to the United States.
Opposition calls for releasing reserves
Germany has possessed large oil reserves since the 1970s, when it -- along with the other members of the OECD (Organization for Economic Cooperation and Development) -- agreed to legally oblige itself to maintain stockpiles of 90 days of oil for emergencies.
As the hurricane caused German gasoline prices to 1.47 euros per liter ($1.84 per 1/4 gallon) on Friday, the party leaders of the conservative Christian Democrats and the free-market liberal Free Democrats, Angela Merkel and Guido Westerwelle, called for the government to release the country's oil reserves to lower the cost.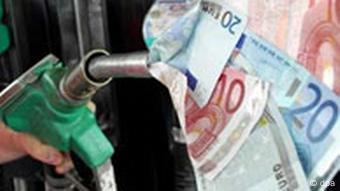 "It shouldn't be a taboo in Germany either," Merkel said in reference to George Bush's decision to release his own countries reserves. Using the reserves would be a "clever and sensible possibility" to relieve pressure on consumers, Westerwelle said.
While Germany's best-selling daily, Bild, echoed their call, demanding Chancellor Schröder to "cough up the cheap gas" in Friday's headline, the government initially opposed such a move.
The reserves may only be put on the market if there are supply problems, government spokesman Bela Anda had told the press on Friday morning.
Selective memory?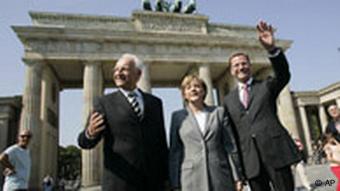 Merkel (center) with Bavarian Premier Edmund Stoiber (left) and FDP leader Westerwelle
Anda also took a jab at Merkel, whose CDU, along with its Bavarian sister CSU, currently leads the election race with 43 percent against Schröder's Social Democrats at 32 percent, according to pollsters Infratest dimap. Anda said that the CDU-led government, in which Merkel was a cabinet member, in 1997, sold off German reserves that went beyond the level the country was legally obliged to hold.
"That shows that neither Frau Merkel nor Herr Westerwelle know what the legal requirements for a possible release of the oil reserves are, nor do they appear -- in Frau Merkel's case -- to remember their own political past and responsibility," he said.