German Education and Research Minister Annette Schavan said that the academy is to be "the voice of German sciences in international contexts."
She and her colleagues from the 16 German states reached the decision in Berlin on Monday, Feb. 18.
Schavan said the academy was to independently focus on scientific topics affecting society and present the results to politicians and the public in a suitable form.
"I am pleased that Germany will also now be able to create such an academy," the minister said, stressing that a dialogue between scientists and politicians was essential.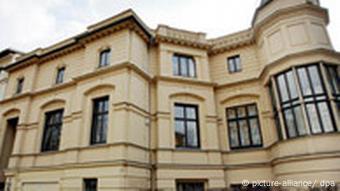 The Leopoldina Academy in Halle
Leopoldina president Volker ter Meulen said the newly named National Academy of Sciences would be on par with those of other countries, including England's Royal Society in London or the Paris-based Academie des Sciences.
Europe's oldest scientific academy
The 355-year-old Leopoldina is Europe's oldest scientific academy. The naming of such an institute has been under discussion for over a decade.
The National Academy is to foster cooperation between scientists from various disciplines and, to that end, work closely with the German Academy of Science and Engineering (acatech) in Munich and the Berlin-Brandenburg Academy of Sciences. Until now, the Leopoldina Academy has focused exclusively on the natural sciences.
The German government is to cover 80 percent of the estimated four million euros ($5.9 million) in costs for operating the new academy until 2010. The state of Saxony-Anhalt, where the academy is located, is to pay the other 20 percent.
Further negotiations are required for funding beyond 2010.