Bernie Ecclestone has called into question whether Germany will host a Formula One race this coming F1 season, following questioning by German media.
Speaking to Germany's "Bild" newspaper on Tuesday, Ecclestone said, "It doesn't look good, but we are trying to rescue it."
On Monday, Ecclestone had told German newspaper "Rhein Zeitung" that no F1 race would be hosted in Germany in 2015 because "the visitor numbers were so poor in recent years that it is not economically viable."
He also confirmed a fax had been sent to the paper in response to a query but denied the matter had been decided.
"Who knows? There are two circuits there. Wait and see," the 84-year-old told news agency Reuters. "It's not looking good. You can say that it (the race) looks unlikely."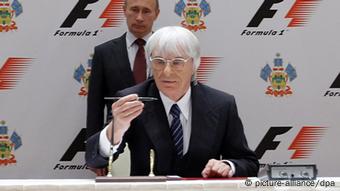 F1's boss Bernie Ecclestone has high-level contacts in both politics and business
Currently, no deal has been signed with either Hockenheim or Nürburgring, the two German circuits currently sharing the annual grand prix.
This year's race was due to be held at the Nürburgring in the country's Eifel region on July 19 under an alternation agreement that saw Hockenheim host it last season. This staggered arrangement has been in place for years, beause both circuits say they cannot afford the losses incurred by hosting the race every year. Race organizers - either the circuits, national governments, or a mixture of both - pay Ecclestone's Formula One empire millions each year to host a grand prix; their only revenue source to recoup this money are the tickets sold to fans, which in turn has pushed prices well above other comparable events.
German F1 organizers have struggled with fan numbers for years. Only 45,000 turned out on race day at the Nürburgring in 2013, the season after Michael Schumacher retired. Last year in Hockenheim, 52,000 fans were on hand on the Sunday race day. That compares to some 120,000 for the British Grand Prix at Silverstone - perenially the best attended race on the calendar - and the 80,000 who turned up on race day for F1's return to Austria this season.

With the Formula One season starting in Australia next month, Ecclestone indicated Germany had only a couple of weeks to do a deal and stay on the 19-race calendar. Should the race actually be cancelled, it would be the first time that Germany would miss out on hosting a round in the Formula One season since 1960.
al/apc (dpa, Reuters)