The justice ministry's move comes three months after the city's state prosecutor made a formal approach to the German government for help in the notorious Khaled el-Masri case.
A court in the southern German city of Munich had ordered arrest warrants for the CIA suspects at the end of January.
The German government has only acted now because of fears of putting strain on trans-Atlantic relations, according to "Panorama," a news program on Germany's public broadcaster ARD.
The justice ministry confirmed to AFP news agency that it had sent an official request to US authorities for cooperation at the end of last week.
Taken to Afghanistan for interrogation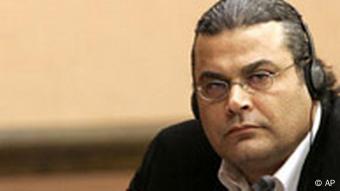 Khaled el-Masri says he was tortured during his imprisonment in Afghanistan

El-Masri says he was abducted by US agents in the Macedonian capital Skopje on New Year's Eve 2003.

He says he was flown to a prison in Afghanistan for interrogation before being released five months later in Albania. El-Masri says that he was drugged and tortured during his imprisonment.

He filed a law suit against the US government in the United States, but it was rejected by an appeals court on the grounds of national security.