Under the plans, automobile manufacturers would have to reduce carbon emissions produced by their fleets of passenger cars to an average of 120 grams per kilometer by 2012. Currently, new cars emit some 160 grams on average. Should they not comply to the guidelines, automakers are to face steep fines.
With several commissioners dissenting, the European Commission -- the EU's executive arm -- agreed on a four-year phase-in period from 2012 for the fines.
"This will send a strong signal to the world about the determination of the European Union to take bold measures on climate change," EU Environment Commissioner Stavros Dimas said at a press conference.
Germany says the plan will not be effective
The proposed legislation enraged Germany and its carmakers. German Chancellor Angela Merkel said the EU was making policy "at the expense of Germany."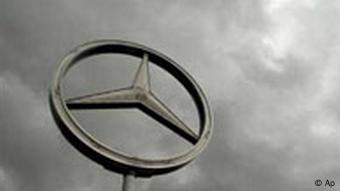 Daimler, BMW and Porsche could face difficulties meeting the targets
Government spokesman Thomas Steg said the measures were biased against German companies, which tend to make bigger and more powerful vehicles.
"Whatever motive led a majority of commissioners to decide this, we consider the solution to be wrong, we consider the solution to be very harmful and will do everything to force changes," he said.
Steg said that the plans would threaten jobs, hinder innovation and fail to be an effective instrument for climate protection.
Environment Minister Sigmar Gabriel also slammed the proposals, saying that they favored Italian and French car makers.
Speaking on German television, he criticized the fact that the limits would apply to a car manufacturers' fleet, meaning that a manufacturer such as Fiat with its numerous small models would not have to cut the emissions of its high-end cars.
According to the European Commission's plans, penalties on companies will start at 20 euros ($29) per excess gram of CO2 and rise to 95 euros in 2016.
Opinions split on the issue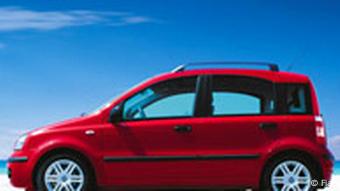 Germany says firms such as Fiat will get off lightly
EU Commission President Jose Manuel Barroso hailed the new measures, which still need the backing of EU states and the European parliament. "This proposal demonstrates that the European Union is committed to being a world leader in cutting CO2 emissions and the development of a low carbon economy," he said.
"At the same time, we are committed to promoting the competitiveness of our industry and its global technological leadership," Barroso added.
The environmental group Greenpeace said the proposals did not go far enough, accusing the EU executive of backing down in the face of lobbying from the auto industry.
"The Commission has let car makers drive away with a proposal that sets a weak, short-term standard, lacks any longer-term targets and offers an open road to heavy, gas-guzzling vehicles," said Greenpeace transport policy expert Franziska Achterberg.
.