Germany coach Joachim Löw has included three new faces to his squad for the March international fixtures against Serbia and the Netherlands.
Hertha Berlin defender Niklas Stark (pictured above), Leipzig defender Lukas Klosterman and Werder Bremen midfielder Maxi Eggestein have been named to Löw's squad for the first time. All three have been part of Germany's under-21 side in recent years, with Stark lifting the U21 European Championship trophy in 2017.
The squad nominations come 10 days after Löw informed World Cup winners Thomas Müller, Jerome Boateng and Mats Hummels that they will not feature in his plans for the 2020 European Championship — a decision that has drawn backlash against the Germany coach.
Read more: Who will benefit from Germany's axing of Müller, Hummels and Boateng?
Neuer still No.1
Löw reaffirmed his commitment to Germany captain Manuel Neuer, saying the Bayern Munich goalkeeper will remain his starter and Barcelona's Marc-André ter Stegen will be his backup.
"Manuel Neuer is the No. 1. He is our captain," Löw said in a press conference on Friday. "But he has to also play well for us, and he knows that."
Neuer is having a rough season with Bayern, accentuated by a humiliating mistake against Liverpool in the Champions League. The 32-year-old has allowed 32 goals in all competitions this term, the most he has allowed in five seasons.
Meanwhile, the 26-year-old ter Stegen, who started for Germany when they won the 2017 Confederations Cup, has had a strong season. Though his goals against tally (33) is nearly the same as Neuer's, the Barcelona goakeeper has kept 15 clean sheets, one more than the Germany captain.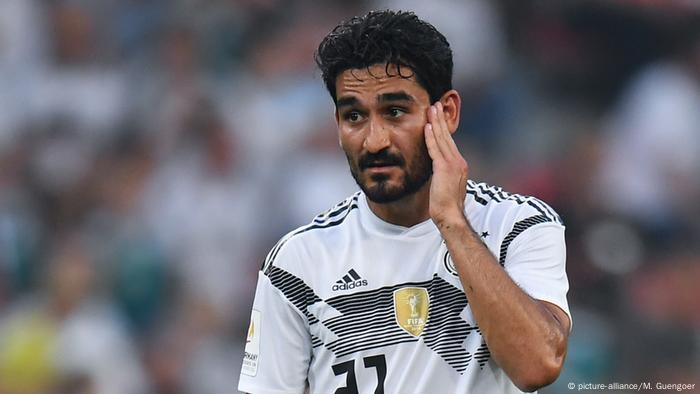 Ilkay Gündogan is back in the Germany team after a six month absence
Gündogan returns
Manchester City midfielder Ilkay Gündogan is back in the Germany team for the first time since September.
A thigh injury prevented the 28-year-old from being selected in October and he was left out of the squad in November when Germany finished bottom in their Nations League group.
Gündogan and Mesut Özil came under heavy criticism last year after taking pictures with Turkish President Recep Tayyip Erdogan. After Germany's group stage exit from the World Cup in Russia, Özil quit the national team, accusing Germany's football association (DFB) of racism, while Gündogan reasserted his desire to play for Germany.
The midfielder has enjoyed success with Manchester City, who are in first place in England's Premier League as well as the quarterfinals of the Champions League.
Young guns on hand
After making their Germany debuts at the end of last year, Nico Schulz, Thilo Kehrer and Kai Havertz are all back in the Germany team.
Schulz and Havertz received their first Germany caps in a September friendly against Peru, with Schulz scoring a goal in the 2-1 German victory. Kehrer made his debut against France in the Nations League before starting both of Germany's November fixtures against Russia and the Netherlands.
Germany have two international fixtures scheduled this month, a friendly against Serbia on March 20 followed by their first qualifier for Euro 2020 against the Netherlands on March 24.