There were plenty of promises from the DFB last week when they hosted an official explanation of Germany's World Cup debacle. A new beginning was supposedly on the horizon, but there was a familiar look to the starting XI coach Joachim Löw named to face France at the Allianz Arena.
Löw did spring a few surprises, however, by naming four center-backs and moving Joshua Kimmich into the No.6 role alongside Toni Kroos.
The change gave Germany a more solid appearance as they sought to bring solidity and cohesion back following a chaotic World Cup campaign, where they were accused of lacking motivation, committment and camaraderie.
Mats Hummels and Jerome Boateng looked assured as a central defensiver pairing, while Antonio Rüdiger and Matthias Ginter proved better than expected out of position. Yet the issues in attack remained, with Germany largely toothless in a dull opening period as familiar tactics proved hard to shake.
The first real chance fell to Timo Werner in the 18th minute, but even that was a speculative effort which goalkeeper Alphonse Areola comfortably dealt with.
For France, they looked more than happy to concede possession. Olivier Giroud went extremely close after 35 minutes, the Chelsea front man expertly flicking a header towards goal to force an equally exceptional diving save from Manuel Neuer.
Improved second period
France set the tone in the second half, with Antoine Griezmann hitting a swerving shot from long range which saw Neuer produce another fine stop. That attack seemed to spark Germany into gear, as they began to take control of the match and create chance after chance.
Werner was looking dangerous cutting in from the left flank, but was struggling to find a final product. In the 57th minute, his pace left Benjamin Pavard for dead before seeing his cross-shot saved for a corner.
Marco Reus, who had been anonymous for most of the match in an unfamiliar lone striker's role, then saw his first-time shot parried away by Areola after some tidy build-up play from Leon Goretzka and Ginter in the 64th minute.
Ten minutes later, Thomas Müller cut in from the left and his looping effort was tipped over the bar. From the resulting corner, Ginter rose high and seemed destined to direct his header into the net, before Areola produced a wonderful strong palm to bat the ball away.
That 10-minute salvo, however, was about the last of the action as the game petered out and ended in a goalles draw.
Germany and Löw will be pleased with the effort and committment following a lackluster World Cup campaign, and the performances of Ginter, Werner, and Kimmich proved promising. But the dearth of creativity is still a problem and the lack of penetration in the final third a familiar concern.
Drawing with the world champions, however, is an admirable result and at least gives Löw some building blocks to continue his brave new plan to revive the fortunes of a flailing national football team.
+++ As it happened +++
Germany 0-0 France
FULL-TIME - That's the match then. A fairly dull opening period got a lot more exciting in the second half, with Germany really growing into the game. They had a number of chances, the best falling to Matthias Ginter, while France's best effort saw Antoine Griezmann force a nice save out of Neuer.
France goalkeeper Alphonse Areola was probably the man of the man, producing a string of good saves to keep the match scoreless. Both teams take a point from their opening UEFA Nations League clash.
90' Dembele has a late dig as he looks to chip Neuer, but it goes over the bar.
85' SUB - Matuidi off for Tolisso.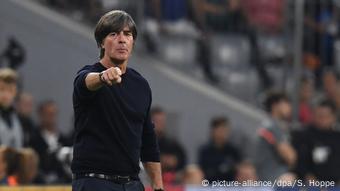 83' SUB - Reus off for Sane. Löw controversially left him out of Löw's World Cup squad. Can he prove the difference?
80' SUB - Griezmann off for Fekir.
78' Well, Germany are definitely looking the bestter side now, passing the ball around confidently and creating chances. If they can sneak a goal it would be a pretty big win in terms of getting over their World Cup hangover.
75' CHANCE - Ginter heads towards goal, and another great save from Areola with a strong palm! Wow, he really has been the game's best player, you'd have to say.
75' CHANCE - Müller cuts in from the left and hits a looping effort towards goal, but Areola tips over. He's been impressive tonight. Areola that is.
72' CHANCE - Great run from Reus, who takes on three and manages to release... Hummels. He finds Müller with a chip into the box, but the Bayern man chests the ball backwards and then sees a harmless shot blocked. Hummels then gets a crack, driving the ball into the ground, but Areola saves. Nice from the hosts.
66' SUBS - Gundogan comes on for Goretzka, Dembele for Giroud.
64' CHANCE - Great play from Germany, Goretzka frees Ginter on the right and his cutback is perfect for Reus, whose first-time shot is parried away for a corner by Areola. That was tidy from Germany. Great save.
64' CHANCE - Griezmann hits a fierce effort from distance and Neuer is forced to parry the ball away. Decent effort.
60' A nice combo between Rüdiger and Werner, who beautifully finds Kroos at the edge of the box. But he's way too slow, his touch is off and a decent opening closes. Kroos hasn't been sharp tonight.
57' CHANCE - Werner runs at Pavard and absolutely skins him. His cross/shot - not sure which - is blocked by Areola and he wins a corner. Nice run from the speedster.
54' Marco Reus is playing as Germany's central striker, just in case you forgot/didn't notice. He's been anonymous. The role doesn't look like it suits him, would surely be more dangerous from out wide or behind another front man...
50' CHANCE - Griezmann fires in a shot straight at Neuer, and although the Germany No.1 fumbles he's able to regather.
48' Goretzka clatters Hernandez, who has been impressive. No yellow cards yet, though Rüdiger surely should have got something for his stamp on Pavard.
46' Back underway!
COMMENT - Germany could really do with some more quality on their wings. They're getting some decent balls out to their wide players but the quality of delivery has been poor. What do you expect from two center-backs? You'd think they would get more joy playing Kimmich at right-back.
Defensively, though, they have improved since the World Cup debacle. Boateng staying back and assisting Hummels helps, of course.
France have been happy to grow into the game and they looked dangerous at times. But apart from Giroud's tidy header they also haven't created too many meaningful chances. Hopefully we see some changes sooner rather than later!
State time:
HALF-TIME - That's the first 45 done and dusted and not much to write home about to be honest. A classic friendly. The Nations League title is not fooling anyone. It is still goalless.
Giroud with the best chance in a relatively goalmouth-free opening period. Neuer was well positioned for his header, however, and made a diving save.
Let's take another look at Pavard's neck...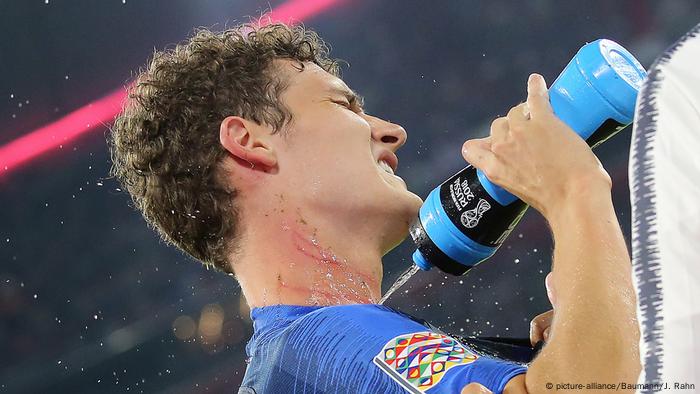 45+1' Hummels makes a brilliant intervention, sliding in to block Mbappe's cross. Giroud's flick towards goal from the follow-up cross then goes wide.
45' Rüdiger stings Areola's hands from a tight angle. We'll put that down as a hopeful effort. Half chance.
43' Goretzka takes down Pogba, and we have a free-kick about 25 yards out. Bit too wide for a serious shot, but Mbappe and Griezmann are over it... and Mbappe's effort flies into Neuer's arms.
41' CHANCE - Neuer saves from Griezmann after Germany's defence parted ways for their opponents.
40' Sounds strange to say, given Germany have two center-backs playing as full-backs, but this team does have a more balanced feel to it. Less susceptible in defence, and more organized to stop counters. Hasn't solved toothlessness up front, though, and France have hardly been adventurous. But glass half full, right?
39' Germany are having a decent spell, but still can't find a way through. Corner after Werner's shot is blocked. But another decent delivery from Kroos is wasted.
36' CHANCE - Giroud forces a diving save from Neuer with a decent header. Nice ball from Kante.
35' CHANCE - Great corner delivery from Kroos, but Rüdiger directs his header wide and Hummels' follow-up goes over the bar.
29' Oof, that's a nasty rake on Pavard's neck. Rüdiger's studs got him pretty good...
25' Positives for Germany? They haven't conceded. And Rüdiger actually looks quite active going forward. He's been pushing up quite high but hasn't found the right ball when in good positions.
22' Our colleague Matthew Pearson predicted a 0-0 result. It looks a fair bet at this stage, not much goalmouth action to speak of.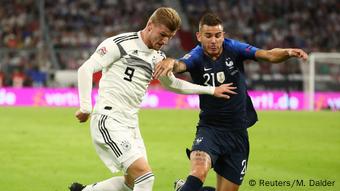 18' CHANCE - Nice build-up play from the home side, Boateng sends a cross-field ball out to Werner, who has switched to the left, and the youngster drives for goal. His shot is easily saved by Areola, though.
16' France are having a good spell of possession. And they have a corner. It amounts to nothing.
15' Hernandez brushes off a challenge from Werner - too easily, it must be said - and has time and space to shape his cross. But it goes over everyone's head. Poor delivery.
13' Werner rips past Hernandez and attempts to find a teammate with a low cutback, but the dependable N'Golo Kante is there to clear the ball. Still no chances in this match
12' Germany have a chance to break but Werner's touch is way too heavy and it goes out of play. There was a juicy chance to counter there.
10' Boateng brings down Hernandez as the full-back attempted to break down the left wing. Free-kick to France - Griezmann delivers into the box but Müller is back to clear.
8' Müller's cross/shot is blocked for a corner. Kroos sends it in but the referee blows for an offensive foul in the build-up.
7' Germany are indeed playing four at the back, rather than the predicted three. Ginter at right-back, Rüdiger at left-back - both natural center-backs.
6' Not surprisingly, Germany are taking control of possession. France happy to let them have it, a tactic which served Deschamps very well in the World Cup. For Löw, obsession with possession proved Germany's downfall. Not much has changed it seems...
4' As Pavard gets treatment, Kroos swings in a corner, easily cleared by the French defence.
3' Rüdiger makes a break down the left and goes to the byline, clashes with Pavard. And the Eintracht Frankfurt man is down with an apparent shoulder injury. On second observation, looks like he stamped down on Pavard's neck.
0' - Kick-off slightly late, but we're underway!! Will be interesting to see how Germany's players line-up.
20:40 - Players are in the tunnel, preparing to come out on the field. Kick-off coming soon!
20:25 - The teams are in and Germany's is an interesting one, with Joachim Löw selecting four center-backs. What is Löw's thinking? Three-man defence, or will Matthias Ginter and Antonio Rüdiger really play as full-backs.
Didier Deschamps has named the same starting XI as he did for the 2018 World Cup final, bar goalkeeper Hugo Lloris.
Germany:
France: