The parents of 16 students killed in the March 24 crash of Germanwings Flight 9525 have accused Lufthansa CEO Carsten Spohr of never having spoken with relatives to apologize for the tragedy. In a letter, provided Tuesday by their lawyer, they said "we've heard nothing from you."
The letter comes amid negotiations with Lufthansa, Germanwings' parent airline, over ongoing compensation claims. Lufthansa has offered around 100,000 euros ($109,000) per family on average, depending on family size. After a total of 75,000 euros ($82,000) per family unit, the airline agreed to also pay an additional 10,000 euros ($11,000) to each immediate relative, including parents, children and spouses.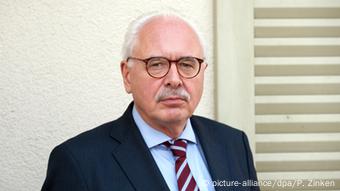 Elmar Giemulla, the lawyer representing the families in Haltern, has demanded "a six-figure sum" in compensation
Too little, too late?
The families from the town of Haltern said in their letter that the offer insulted them, "above all else our children." Their lawyer has reportedly asked for 200,000 euros ($218,000) per victim, refusing to accept the airline's current offer.
Meanwhile, Lufthansa said that Spohr had talked with many victims' families and had attended several memorials. The company also defended its treatment of the families, saying its compensation offer had gone "well beyond" what it was required to pay by law.
Spokesman: Spohr not invited to funerals
Lufthansa spokesman Andreas Bartels told the newspaper "Bild" that the company was doing everything in its power to ease the relatives' suffering. However, he rejected claims that Spohr had ignored invitations to the funerals of some of the schoolchildren who were killed on the flight.
"Mr. Spohr did not receive any personal invitation to attend a funeral," Bartels said.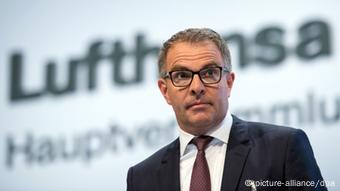 Spohr has defended the company's compensation, saying it went "well beyond" legal standards
"From day one Mr. Spohr has admitted to responsibility for the disaster and apologized for the suffering it has brought on to the families. We would give anything to undo this misfortune."
The victims' families also said they wanted an apology for Lufthansa's doctors not paying closer attention to 27-year-old co-pilot Andreas Lubitz and his prior period of depression, and for the airline not having the two-person cockpit rule applied before the deliberate crash of the Airbus A320 into the French Alps, which resulted in the deaths of all 150 people on board.
More pilot screening and keeping two people in the cockpit at all times were among recommendations issued last week by a European task force set up after the crash.
ss/cmk (AFP, AP, Reuters)