International travel agency TUI is to purchase a 9.9-percent share in the budget airline Air Berlin, according to a market report released Wednesday. The transaction is set to take place officially later this month.
TUI is to purchase the nearly 8.5 million new shares through its subsidiary company Leibniz-Service, with each share valued at 3.94 euros ($5.79).
The deal will net Air Berlin a capital gain of 33.5 million euros. The airline has said it plans to use the funds for "general business purposes."
Competing for market share
Senior Transportation Analyst Per-Ola Hellgren of the Landesbank Baden-Wuerttemberg (LBBW) explained that the deal represents a way for both companies to expand their share in the crowded regional airline market.
"For TUI, the benefit is increased scale resulting from the cooperation with Air Berlin," Hellgren told Deutsche Welle.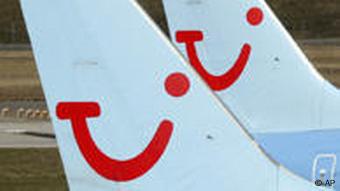 TUIfly is Germany's third-largest airline
TUI already has a stake in the airline market through its subsidiary TUIfly, the third-largest airline in Germany. Air Berlin is Germany's second-largest airline. Both compete with the country's largest, Lufthansa, as well as other European discount airlines like Germanwings and Ryanair.
A growing partnership
TUI's acquisition represents another step in its strategic partnership with Air Berlin. In March, the two companies agreed Air Berlin would take over certain flights in TUIfly's 2009/2010 winter schedule.
"Through this agreement, Air Berlin will gain access to three economically important markets: Cologne, Stuttgart and Italy," said Air Berlin's CEO Joachim Hunold in a press release.
The budget airline will initially charter 13 of the 38 airplanes TUIfly plans to operate this winter. Starting in summer 2010, Air Berlin will take over an additional plane from TUIfly.
gw/AP/AFP
Editor: Kate Bowen