Millions of people are familiar with the fairytale of Snow White: the beautiful princess whose escapes from her jealous stepmother and goes to live in the house of the Seven Dwarves. The evil stepmother tries to have her killed after her magic mirror tells her that Snow White is "the fairest of them all."
Locals of the German town of Lohr am Main like to believe that this mirror really exists. In fact, it is on display at the local Spessart Museum. That is because, according to some sources, the girl who inspired the fairytale lived in Lohr am Main.
However, the true Snow White - Maria Sophia Margaretha Catharina von Erthal - was a bit different from the princess in the story. She was of noble heritage and was born in 1729 in Lohr's castle, which today houses the Spessart Museum. She also had a domineering stepmother: Claudia Elisabeth Maria von Venningen.
Tracing Snow White's steps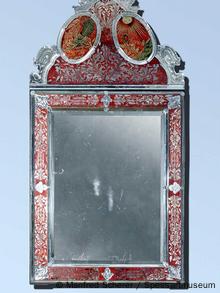 The evil stepmother's mirror is on display at the Spessart Museum
The rest of the story can also be followed in the museum, including the murder plot and Snow White's escape through the mountains to the cottage of the Seven Dwarves. In reality, the dwarves were most likely miners - small and hunchbacked due to the terrible working conditions in the mine's low tunnels - or children who were used as laborers.
It is believed that Snow White's escape route was the 35-kilometer (22-mile) hiking path through the Spessart mountain range, one of the largest deciduous forest areas in Germany. Signs along the route now give visitors the chance to learn more about the forest's connection to fairytales.
The tourist information office in Lohr am Main has special hiking programs on offer. It also provides information about local attractions, such as the old town with its black-and-white timber-frame houses, the historic Fishermen's Quarter and the old town hall.
Of course, the other must-see is the Lohr castle and the Spessart Museum, which houses a collection of mirrors from local glass manufacturers. Once upon a time, one of these mirrors may have spoken to Snow White's stepmother.
Author: Wim Abbink / ew
Editor: Kate Bowen