German Tornado reconnaissance jets flew for the first time on Friday in a mission against the extremist militia group calling itself "Islamic State" (IS) on Friday.
Two planes flew from NATO's airbase in Incirlik, Turkey, and landed once again without problems almost three hours later. "They have carried out their mission," said a spokesman for the German military.
The German jets will not be used for bombing missions, but rather for reconnaissance over IS-occupied areas of Syria and Iraq. Four Tornado jets have already been stationed at the Turkish air base since Tuesday, with two more German planes expected to arrive by mid January.
The aircraft can take photographs and infrared images - which can be transmitted to ground stations in real time - both at night and in poor weather conditions.
On Monday, over 100 pilots, technicians, ground crew and reconnaissance specialists from the German air force deployed from Hamburg to the Incirlik base for the start of their mission.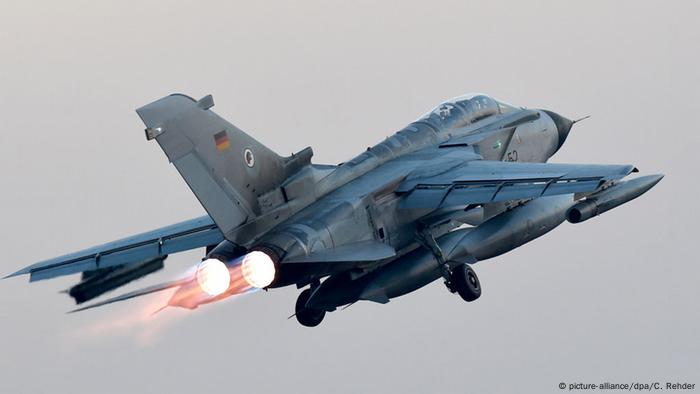 Although the German Tornado jets won't be dropping bombs, some worry that the intelligence gathered might be used by Turkey against the Kurds
Information for 'possible targets'
Germany's emerging role in the international anti-IS coalition has been viewed with criticism and praise. But German military officials insist that the missions are strictly non-aggressive in nature.
"The reconnaissance objectives are intended to serve in the fight against IS. Of course, they also serve as possible targets for further operations," said a German military spokesman.
Another security expert - who wished to remain unnamed - described the missions more bluntly: "We are not doing any land surveying. It's all about 'targeting,' even if one doesn't like to hear that. We provide target data for others so that they drop something on [that area]," he said.
The same security expert expressed concerns that the intelligence data, could be used against by Turkey against Kurdistan Workers' Party (PKK) strongholds in northern Iraq and southeastern Turkey. As a coalition and NATO partner, Turkey will have access to the reconnaissance data gathered by the German Tornados.
"[Information] which is of use, is fed into the Anti-IS coalition database ... There is no reason why Turkey should not see certain images," said the German military spokesman. However, he stressed: "The targets are not the Kurds, but rather, IS."
Reconnaissance Tornado jets were also used by the German military in Afghanistan from 2007 to 2010.
rs/msh (AFP, dpa, Reuters)