Two months after authorities broke up a terrorist cell in Germany and seized a large amount of potentially explosive chemicals and military-grade detonators, police have arrested a fourth suspect in Turkey.
Atilla S., a 22-year-old German, was arrested by Turkish authorities on Tuesday, Nov. 6, and is accused of being an accomplice in the plot to bomb US military and other facilities in Germany. If the bombing had succeeded, the attacks could have been deadlier than the ones in London and Madrid.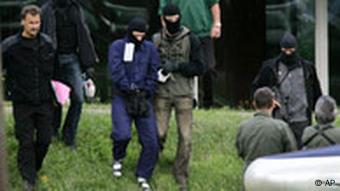 A terror suspect is led away at the German Federal Court in Karlsruhe on Sept. 5, 2007
As the investigation into the plot widened, Germany took out an international search warrant against Atilla S. Authorities have been pressing Turkey to arrest him and extradite him.
The man's lawyer, Manfred Gnjidic, confirmed the arrest, saying he had talked to his client by telephone but did not know where he was being held. His client, the lawyer said, denied the accusations.
"He had nothing to do with it," Gnjidic told the Associated Press.
Germany's Federal Prosecutors' Office could not yet confirm the arrest.
Massive plot
According to investigators, Atilla S. spent time in a terrorist training camp in Pakistan in 2006 and was one of the people observed conducting surveillance on a US military base in Hanau on Dec. 31, 2006.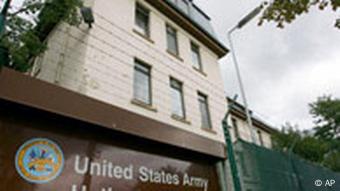 US military base at Hanau, thought to be a target of terrorists
He is allegedly part of an Islamist circle active in the towns of Ulm and New Ulm, which has been under observation by German authorities for some time.
It is believed that S. worked with the men who are now in German custody, gathering bomb making materials and, in particular, helping the men obtain detonators. They had gathered 12 vats of hydrogen peroxide, which when mixed with other chemicals, could produce a bomb with a force equal to 1,200 pounds of TNT, German officials said in September.
His suspected associates were two Germans, Fritz G and Daniel S. as well as a Turkish resident of Germany, Adem Y. All three are now in custody and officials are looking for more people linked to the plot, which a militant group calling itself the Islamic Jihad Union claimed responsibility for.
"We can assume there are 40 to 50 suspects," the head of Germany's Federal Criminal Police, Jörg Ziercke, told the daily Kölner Stadt-Anzeiger. "Besides the ringleaders, there are the people who were so closely connected to those arrested that we count them as being part of the network."