German troops stand to attention the scorching African heat. They've been doing this day in, day out for the past five years. The 330 German sailors and other naval staff will stay here for at least another year.
While many Germans may be starting to question the usefulness of the "Enduring Freedom" campaign, the marines themselves are sure of their aims.
"We are here to fight international terrorism," says one soldier on the frigate "Schleswig Holstein."
The naval patrol is also made up of the tanker "Spessart" and two helicopters. Currently, the international mission with a further seven ships is under German command again for the fourth time.
Keeping an eye on ship movement
Based in Djibouti on the Horn of Africa, these ships patrol the waters between the Red Sea, the Gulf of Aden and the Indian Ocean, all the way to the Kenyan port of Mombasa. The mission has photographed and registered thousands of vessels, recorded their presence on maps, and radioed millions of questions.
"This is coalition aircraft in conjunction with multinational maritime forces," they repeatedly announce. "Please be so kind to answer my following questions. Are you ready?"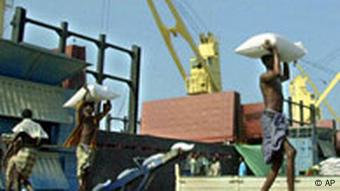 Workers at Djibouti port unload wheat
The aircraft are an important part of the mission. They photograph vessels in the area. The images are remarkably clear -- good enough, in fact, to make out cooking pots on a gas stove.
These photographs are then sent to headquarters in Bahrain, and if the freight looks suspicious, there's either a raid at sea, or the authorities at the destination harbor are informed.
Difficulties defining achievements
The idea is to gain a complete picture of all shipping movements in the area. But Admiral Manfred Nielson finds it hard to define exactly what the international mission has achieved so far.
"If you want figures, data, or facts where we can say -- 'we've caught this number of terrorists, and this is precisely what's happened' -- well, I haven't got that for you," he said.
The captain of the Schleswig-Holstein, Jan Otte, explained that the navy is not just looking for weapons, but also for drug smugglers and pirates.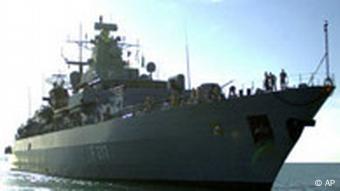 German vessels are also on the lookout for pirates
"These things are connected," he said. "Organized crime which is linked to piracy is possibly linked with the structures that support terrorism."
But there have been some achievements. A Spanish ship recently stopped a freighter on the way to Yemen carrying rockets from North Korea.
In addition, the ships involved in Enduring Freedom have saved several people who were shipwrecked. And a year ago, the Schleswig-Holstein accompanied the luxury cruise ship, the MS Deutschland (the "Dream Ship" in a German TV series) as it passed through the region. Just to help out in case they should meet with the notorious pirates of the Horn of Africa.