Based in the northern German Baltic ports of Warnemuende and Wismar, the Wadan shipyards were forced to file for insolvency in June 2009, amid the global economic downturn and a crisis in the shipbuilding industry worldwide.
As one of the biggest employers in the economically depressed state of Mecklenburg-Western Pomerania, Wadan employed a local workforce of 2,500 people.
On Monday, a board of creditors gave their seal of approval for the sale of the shipyards to Russian businessman and former energy minister Igor Yusufov.
Supporters of the deal say it will save about half of the jobs at Wadan, as the future owner hopes to secure lucrative orders from his home country.
The Wadan shipyards used to make ferries and freight vessels. However, owing to a surplus production of ships globally, they will no longer attempt to regain lost ground in conventional shipbuilding.
Rather, future investor Yusufov – who is also a board member of Russian state gas giant Gazprom – hopes to attract profitable orders from Russian fleet owners who need specialized vessels such as icebreakers.
Powerful investor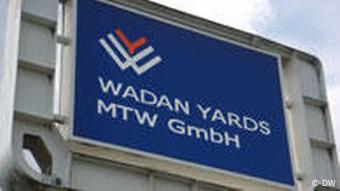 The future investor hopes to attract lucrative orders from Russian fleet owners
Mecklenburg-Western Pomerania's economics minister Juergen Seidel welcomed Yusofov's plan to pump more than 40 million euros ($56.28 million) into the dockyards to make it fit for taking on new orders.
"The Russian fleet needs to replace at least 700 vessels in its modernization bid," Seidel said. "You need somebody who really has access to the people who will eventually order new ships. And this hasn't worked at all with the old owner, Andrey Burlakov, also of Russia."
"Ship-building remains the key industry for our state – it's the industrial base here in Mecklenburg-Western Pomerania. This is why securing a powerful investor for the Wadan dockyards is of such tremendous importance to us," he added.
Political backing for deal
The sale of the dockyards also has the political backing of German Chancellor Angela Merkel and Russian President Dmitry Medvedev, who both threw their weight behind the deal during a meeting in the Black Sea resort of Sochi last Friday.
Some analysts point out that Russian investment in key projects in Germany could help boost Merkel's standing ahead of September 27 elections.
In travelling to Russia to talk about fresh investment in the shipyards, Merkel wanted to be seen as a "trustworthy and socially-oriented politician," said Alexander Rahr, a Russia expert with the German Council on Foreign Relations in Berlin.
About half of the 2,500 workforce will be kept on
Why distrust the Russian investor?
While some German politicians fear that largescale Russian investment will cause the German economy to become too dependent on Moscow, the managing director of the German Chambers of Industry and Commerce, Martin Wansleben, dismisses such misgivings.
"We should really stop believing that we're always in a position to clearly differentiate between good and bad money," Wansleben said.
"Why should we distrust the Russian investor? Of course, we need to ensure that German, and for that matter European, investment laws are adhered to. But the investor is surely aware of the legal framework surrounding the purchase of the shipyards," he said.
Wansleben added that any attempts to bar Russian investors from the German market would be counterproductive and irrational.
He argued that such distrust was totally out of place in the age of globalization, asking what would become of German companies investing abroad if they were to face the same level of suspicion.
Hardy Graupner (rb/sje/dpa/AFP)
Editor: Susan Houlton