Murat K. had already admitted that he had attacked and wounded the two police officers with a kitchen knife during unrest in May, but showed no remorse during court proceedings this week, saying that he had been obligated to follow only Shariah law.
The Salafist of German-Turkish heritage from the western state of Hessen was convicted on charges of disturbing the peace, assault and resisting police. Salafism is a radical form of Islam.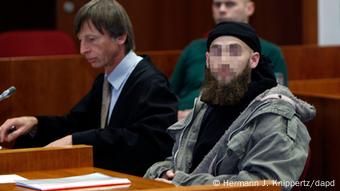 Murat K. refused to recognize German law and courts
Friday's sentencing came five months after Islamists and the right-wing extremist group Pro NRW confronted one another in Bonn, Germany's former capital. Pro NRW held a demonstration in which they carried a caricature of the Prophet Mohammed. Islamists held a counter-demonstration to protest the caricature.
Murat K. stabbed two police officers as the demonstrations exploded into violence. Both of the wounded officers had to undergo operations for their injuries, which were serious but not life threatening. The attacks were recorded on video.
Murat K. had claimed that the attacks on the police officers were justified, because the German state had allowed offensive images of the Prophet Mohammed to be shown in public. Under Islamic law, it is forbidden to depict Mohammed in images.
During the May clashes near the King Fahd Academy in Bonn, 29 police officers were injured and 109 people were temporarily detained.
slk/ipj (AFP, dapd)
Editor's note: Deutsche Welle is bound by German law and the German press code, which stresses the importance of protecting the privacy of suspected criminals or victims and obliges us to refrain from revealing full names in such cases.