German politicians from across the political spectrum on Sunday condemned violence against refugees after a second night of far-right riots outside an asylum-seeker home in the town of Heidenau in the eastern German state of Saxony.
The premier of Saxony, Stanislaw Tillich, who belongs to Chancellor Angela Merkel's Christian Democratic Union (CDU), called for firm action against people committing violent acts directed against refugees.
"I am deeply shaken by the events," Tillich said in the Saxon capital, Dresden.
"We won't put up with it; we will counter it with all the means at our disposal," he said, calling the riots and violence against police an "expression of contempt for humanity."
Symbolic visit
The Saxon interior minister, Markus Ulbig, also from the CDU, announced on Facebook that a security zone would be set up in Heidenau to allow potentially violent offenders to be identified early on.
Both Tillich and Ulbig traveled to Heidenau with other Saxon lawmakers to assess the situation.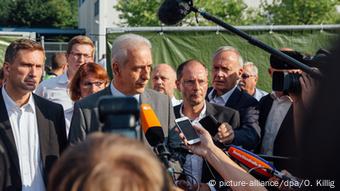 Tillich (c.) and Ulbig (2nd from r.) visited the refugee shelter
Tillich's visit was praised by the premier of the neigboring state of Thuringia, Bodo Ramelow of the Left party.
"He is doing exactly the right thing by visiting Heidenau and making a stand against right-wing terror," Ramelow told the newspaper "Thüringer Allgemeine," adding: "We need democrats to stick together."
Social Democrat Vice Chancellor Sigmar Gabriel, who has announced a planned visit to Heidenau on Monday at the invitation of the town's mayor, also called for firm action, as has Interior Minister Thomas de Maiziere, who promised to bring the "full force of the law" against perpetrators of anti-refugee violence.
Police warning
In view of the riots and increasing attacks on refugee shelters in Germany, a police union has warned of growing right-wing terrorism in the country.
"The combination of politicians without a definite plan and massive streams of refugees to Germany and within Europe is the ideal breeding ground for strong right-wing extremism in Germany," said Rainer Wendt, chairman of the German Police Union.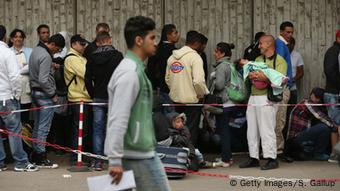 Germany is expecting up to 800,000 asylum seekers this year
He called for border checkpoints to be installed in Germany and other EU countries, and for people coming from "safe" EU countries to be sent back.
'Misunderstood tolerance'
The parliamentary leader of the Greens at national level, Katrin Göring-Eckhardt, echoed Wendt's criticism of a lack of firmness on the part of Germany's leaders.
The violence in Heidenau was a "direct consequence of a misunderstood tolerance of PEGIDA by the Saxon government," she said, referring to the "anti-Islamization" group that has held marches in Dresden to protest against migration to Germany.
Göring-Eckhardt said that she could not understand the reticence of Chancellor Merkel to "find the right words" in the face of a "new right-wing terrorism."
The region in which Heidenau is located, called the "Sächsische Schweiz" ("Saxon Switzerland), is known as a stronghold of the extreme right-wing National Democratic Party of Germany (NPD).
Despite the protests, more than 200 refugees have already moved into the shelter, housed in a former DIY market. Authorities plan to accommodate up to 600.
tj/se (AFP, epd, dpa)
Join the discussion. Add your comment below.