The state parliament of Thuringia faced backlash on Thursday after one of its lawmakers was asked to leave the plenary hall because she brought her child.
Madeleine Henfling, a state parliamentarian with the environmentalist Greens, attempted to participate in a vote on Wednesday while carrying her six-week-old son in a baby sling.
Thuringia's state parliament president, Christian Carius, told Henfling that babies were not allowed in the plenary hall, according to the procedural rules. He added that for the child's well-being, parliamentarians should find suitable child care options.
Currently, there are no child care options offered at Thuringia's state parliament building in the city of Erfurt.
The session was suspended for 30 minutes while the parliamentary advisory committee discussed the issue. In the end, Henfling was told she wouldn't be permitted inside the plenary chamber as long as her baby was with her.
"I feel like a second-class parliamentarian just because I have a child to take care of," Henfling told DW.
No explicit baby ban
On Thursday, Henfling returned once again with her son to the state parliament building in Erfurt. This time, however, she brought her mother with her to care for the baby while she voted.
"Yesterday that wasn't possible because my mother wasn't there," she said.
The procedural rules of Thuringia's state parliament don't explicitly bar children or babies from being present in the plenary hall. However, the state parliament president must approve all extra visitors — a request that Carius denied.
"I didn't think that President Carius would lay in that hard and argue about child welfare. That's pretty harsh," Henfling said.
Prevented from voting
The state parliament president did offer to continue discussing whether the procedural rule book should be changed.
Henfling said she and her party aren't looking to change the parliamentary rules at this moment, however, since doing so would go against the wishes of the opposition in Thuringia.
Instead, Henfling and the Greens are looking into whether they could take the case before the state's constitutional court, since she was prevented from exercising her duties as an elected representative.
"No one wants to take their child to parliament for nine hours while debates are taking place. But I want to exercise my right as a member of parliament to vote," she said.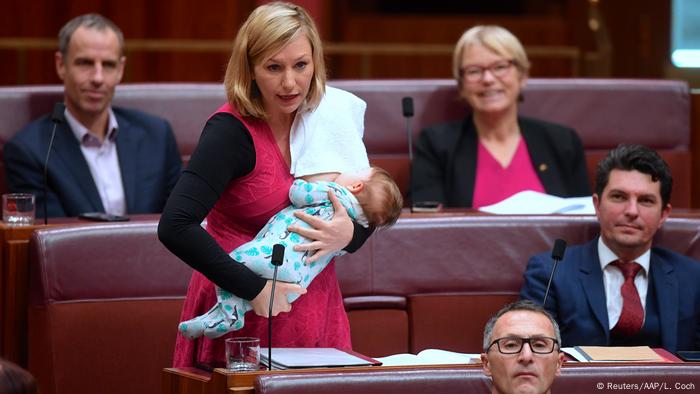 In 2017, Senator Larissa Waters became the first woman to breastfeed a child in the Australian Parliament
Germany slow to change
Lawmakers around the world in recent months have received praise for bringing their babies and also breast feeding them in parliaments from Canada to Australia to the European Union.
In Germany, however, changes to give more flexibility for working parents — and particularly breastfeeding mothers — are slow in coming.
The Thuringia state parliament president's decision was "unfounded and inconsiderate," Ulrike Helwerth, press spokesperson for the Council of German Women's Organizations, told DW.
"What we obviously need is better child care services also for parents who work in politics or in parliament," Helwerth said, adding that a "pragmatic, reality-based provision" was needed.
Due to their obligation to attend plenary sessions and votes, state lawmakers as well as those in Germany's national parliament, the Bundestag, cannot take the same duration of maternity or parental leave that others are offered in the country.
This situation can put MPs with infants in a difficult position when it comes time to return to work.
As for Henfling, she wants the discussion that was sparked by the parliament's decision to continue. She hopes to speak with Carius again about what happened, but has yet to hear a response.
"I simply wanted to take part in the vote. The parliamentary president could have agreed," she said.
DW's Marc Erath contributed to this report.