Since the petition was created earlier this week, over 25,000 people have signed to urge authorities to cancel the two concert dates booked for singer R. Kelly's Germany tour.
The concerts are scheduled for mid-April in Ludwigsburg in Germany's south and Hamburg in the north. The change.org petition is calling for both concerts to be canceled, arguing fans should not "give sexual offenders a stage."
The protest refers to numerous allegations against R. Kelly spanning the last two decades, including sex with minors and child pornography.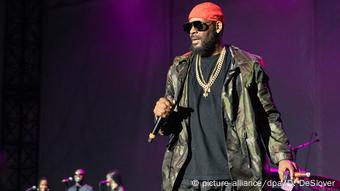 The singer has faced numerous charges of child pornography and sex with minors but has not been convicted to date
The petition's text notes that both planned concert sites are run by local authorities.
"How can it be that this sex offender should be given a stage in Germany that's also supported by public institutions?" the petition asks. "If we allow this, we are signaling to the alleged victims of R. Kelly and to countless others affected by sexual violence that sexual misconduct involving minors is tolerated and even honored in Germany."
Although the singer-songwriter has never been convicted on sex offences, a six-part documentary series called Surviving R. Kelly aired on US TV channel Lifetime earlier this month, in which alleged victims detail accusations of sexual misconduct.
R. Kelly's own response earlier in January was to post a 19-minute song to Soundcloud with the title "I admit," which acknowledged "some mistakes and ... imperfect ways," but which also said he had been neither convicted nor arrested, and said some fans "abandon me 'cause of what you heard."
The series was viewed by an estimated 20 million people and includes over 50 interviews. It saw rebuke in New Zealand, where a local radio station withdrew support for the Auckland show as a result of social media protest. The show will still go ahead.
In 2017, a campaign was launched in the US calling on people to #MuteRKelly. Last year, Spotify announced it would drop the singer's music from its editorial and algorithm playlists as part of its Hateful Content Policy.
An official from Hamburg told German news agency dpa that a binding contract had been signed for the "King of R&B" tour date at a sports hall — one of the city's largest indoor venues. He said that it was at the event organizer's discretion whether the concert would go ahead.
nn/msh (dpa)