Ayyub Axel Köhler succeeds Nadeem Elyas, chairman of Germany's Central Council of Muslims (ZMD) since the organization's founding in 1994.
The ZMD remains one of the best-known Muslim umbrella groups in Germany and according to its own estimates has around 800,000 members. Experts however believe the ZMD's membership to be much smaller, between 20,000 to 30,000 Muslims and predominantly of Arab origin.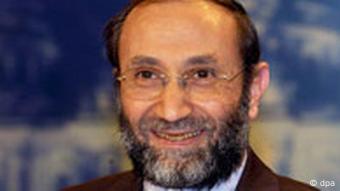 Nadeem Elyas is a well-known figure in Germany
Köhler's election to the ZMD has triggered widespread media interest in Germany.
For one, Köhler is the first Muslim of German origin to have made it to the top of the umbrella group. As a Muslim of German origin, Köhler, who is a member of Germany's opposition free-market, liberal Free Democratic Party, personifies a so-called European Islam which is largely independent of the Arab World.
But he's made it clear that he cares about the problems, integration deficits and also the discrimination perceived by Muslims in Germany.
Appointment amid raging controversy
In addition, the election of the 67-year-old comes amid a simmering conflict over controversial cartoons of the Prophet Mohammed, first published in a Danish paper, and which is considered blasphemous by Muslims.
Shortly after his appointment this week, one of the first questions Köhler faced during a television interview was how he felt about the Mohammed caricatures as a Muslim.
"First of all, we condemn these detestable portrayals," he said. "They violate the dignity of Muslims. Religion is part of human dignity -- and that's a really intimate sphere that one should not violate."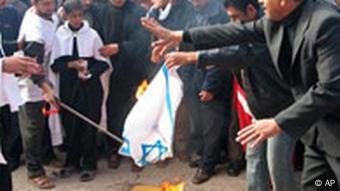 Muslim protests against the caricatures have turned violent in several countries
At the same Köhler said he criticized the violent protests by Muslims in several Arab countries which have included setting Danish and Norwegian embassies alight, burning European flags and issuing death threats to the caricaturists who originally created the Mohammed cartoons.
"When I see the images (from Muslim countries) where an incensed and thoughtless mob charges through the streets and sets house on fire and now even damages churches, then there's outrage here in Germany about the sudden outbreak of anger and hatred," Köhler said. "We abhor such actions and we're trying everything to de-escalate this tense situation."
Countering generalizations
Born in the city of Stettin in current-day Poland, Köhler later fled to then communist East Germany with his family.
In 1956, the Köhlers moved to what was then West Germany and Köhler finally landed in the southern German city of Freiburg as a geology student.
That's where he first came into contact with students of Muslim faith. In 1963, Köhler converted to Islam. In interviews with German media, Köhler justified his decision by underlining the "brotherliness and empathy" of his fellow Muslim students as well as the realization that he had found a "really enlightened religion" in Islam in which "sense and knowledge was one of the fundaments of piety."
Köhler said he is well aware that since the Sept. 11, 2001 attacks in the US, the image of Islam in Germany and other Western countries has been one of a religion that tends to drift towards violence and fundamentalism.
He has underlined that he plans to strongly counter such generalizations, which have once again arisen in the current raging crisis over the Mohammed caricatures, during his term as chairman at the ZMD.
Caring about integration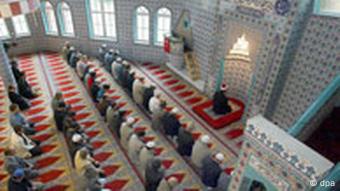 The majority of Germany's Muslims come from Turkey
At the same time, Köhler has appealed to the more than three million Muslims in Germany not to be swayed by the violent demonstrations over the controversial cartoons, but rather to register their protests peacefully.
"We can do that here in Germany by appealing to the Muslims: 'Please don't let yourself be provoked!' We can't achieve anything with violence anyway," Köhler said.
"We have to see to it that we change something in our society when it comes to relations with each other," he added.