Prosecutors in Berlin confirmed that an undisclosed number of journalists were under investigation for breach of secrecy. Germany's ARD television network, which first broke the story, said 17 journalists were involved.
ARD said the criminal probe was launched after complaints by the head of the parliamentary investigating committee, Siegfried Kauder, that classified information was being leaked to the press.
The investigating panel "had more holes than a Swiss cheese," Kauder told ARD.
"You could read more from the classified documents in the press than what was available to the committee," he said.
Going over the top?
Opposition Free Democrat deputy Max Stadler accused the legislature of "going over the top" in targeting the journalists and said the people who passed on the information to them were the ones who were liable of being prosecuted.
"I believe that it is part of a journalist's work to publish such information and they have a duty to inform the public," he said, adding that it had nothing to do with breaching secrecy laws.
Stadler also said that parliamentarians should pass legislation to protect journalists in similar situations.
Focus on intelligence
The panel was set up in April 2006 to look into whether German intelligence services had violated human rights in the fight against terrorism, and what role the government played.
The focus of attention was on the foreign intelligence service BND and its involvement with the US Central Intelligence Agency at the start of the Iraq war in March 2003.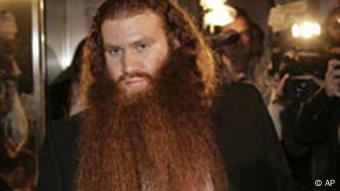 Murat Kurnaz
Another issue was the handling of the case of a German-born Turk, Murat Kurnaz, who spent four-and-a-half years at the US military prison at Guantanamo in Cuba before being released without charge.
One of the most prominent figures to appear before the panel was Foreign Minister Frank-Walter Steinmeier, who was coordinator of the intelligence services at the time of the Iraq war.
Steinmeier has come under fire over claims that he failed to take advantage of an opportunity to obtain the release of Kurnaz.
Stadler accused panel members belonging to Steinmeier's Social Democratic Party (SPD) of deliberately leaking information in order to present the minister in a better light.
Attack on press freedom?
The head of the German Journalists Association (DJV), Michael Konken, called the investigation "a frontal attack on press freedom."
The aim was to "intimidate journalists and their informants," he told ARD.
The television channel said journalists from many of Germany's leading publications, including the news magazine Der Spiegel, the weekly Die Zeit and the dailies Süddeutsche Zeitung, Frankfurter Rundschau, die tageszeitung and Die Welt were under investigation by prosecutors.
Opposition Greens deputy Hans-Christian Ströbele, a member of the parliamentary panel, said he had voted against launching an investigation into the leaks, "because I was a afraid that such a process would be directed against journalists."