According to the Handelsblatt daily newspaper, a confidential report drawn up by government auditors suggests that the costs of the "Herkules" communications modernization project are spinning out of control. Now some figures in the Ministry of Defense and the parliamentary budget committee are searching for ways to withdraw support for the project.
The report focuses on a joint venture known as German Armed Forces-Information Technology (BWI-IT), which couples federal authorities with IT giants Siemens and IBM.
In 2006 the group was tasked with implementing the "Herkules" project, which calls for the installation of some 6,000 kilometers of fiber optic cable, 300,000 new telephones and 140,000 new computer workstations.
The price tag of the project was originally appraised at about 6.8 billion euros, but by mid-2008 that figure had climbed to about 7.1 billion euros. With much of the work still incomplete, costs have climbed to the point where many government officials are reconsidering the feasibility of the project.
A BWI-IT spokesman told Handelsblatt that the delays and cost overruns were justified because much of the project's budgetary planning had been based on broad estimates, not real costs.
"Critical phase"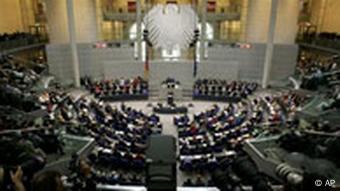 German lawmakers are looking into the joint venture project
The Handelsblatt cited the auditors' report as saying the project had reached a "critical phase" and cannot be completed without additional financial expenditure.
The newspaper said the defense ministry acknowledged that "the pressure of competition [for company contracts] was missing. This would have guaranteed better price, quality and service."
The admission comes just a few months after defense ministry officials were forced to confirm that they had paid bonus payments to senior BWI-IT managers, despite their lack of process.
A ministerial statement said the bonus payments were set by the management boards of the companies involved in the joint venture, and added that the federal government only owned a 49-percent minority stake in BWI-IT.
"The coalition has been fleeced"
German lawmakers unhappy with the project say the defense ministry should pull out of the joint venture.
"With such devastating audit results, the whole project should be put on trial. The coalition has been fleeced," Juergen Koppelin, a Free Democrat member of the parliamentary budget committee, told Handelsblatt. "We insist on our account that the German Armed Forces -Information Technology project no longer give out bonuses for work that has not been provided."
German leaders originally agreed to contract the project out to private companies because of the high costs involved. With no end in sight, the troubled project may prevent the German military from receiving the overhaul in technology it so badly needs.
Reporter: Genevieve Baer
Editor: Sam Edmonds