Hans-Peter Friedrich took over the interior minister's portfolio earlier this month in a cabinet reshuffle and promptly stirred up resentment with his comments on the integration of Germany's Muslims.
At the time, he said there was no historical evidence to support the idea that Islam belonged in Germany.
But ahead of Tuesday's Islam Conference, a liaison panel of state representatives as well as individuals and groups from the Muslim community to advance the integration of Germany's Muslims, Friedrich adopted a more conciliatory tone toward the estimated 4 million Muslims that live in Germany.
"The decisive thing for me is that these people belong to this society here," he told German public radio. "I am here to unite and I would like to make that plain at the Islam Conference."
Friedrich's original comment, however, has caused such irritation amongst local Islamic organizations that community leaders like Turkish Community (TGD) leader Kenan Kolat expect further clarification of the matter.
"We expect our interior minister to explain how he sees things - whether Islam belongs to Germany," Kolat said.
German-style Islam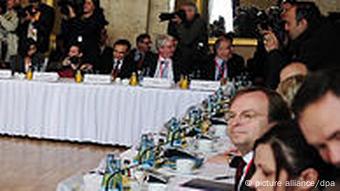 The third German Islam Conference expects 33 participants
Abdelmalik Hibaoui, a Stuttgart-based imam on the conference panel, said there is no question that Islam has been observed by a part of society in Germany for the past 50 years, and is a component of the country's multicultural makeup.
It is, however, still an Islam shaped by Turks and Arabs, Hibaoui said, and he pointed out the significance of teaching Islam in German schools and training imams here in Germany.
"A German-style Islam would develop here in Germany, created by Muslims who live here and are interested in further shaping society here," he said.
On Tuesday's conference agenda, participants will find practical matters like teaching Islam and training religion teachers and imams in Germany as well as a proposal by Friedrich to forge a kind of security partnership with Muslim communities aimed at preventing Islamist attacks through early recognition of possible fanatics.
Two large organizations that represent the country's Muslims will not be present at the meeting. The Islam Council was excluded because the group's leaders were under investigation for tax fraud.
Not on equal terms
The Central Council of Muslims (ZMD) in Germany dropped out last year amid criticism that the Islam Conference was nothing but a platform for dialogue.
ZMD Secretary-General Norhan Soykan dismissed the talks as not goal-oriented, lacking concrete results and not taking Muslim needs and concerns seriously enough.
"The minister should at least listen to Muslims' objections," she told Deutsche Welle. "He should discuss their concrete proposals as equals, and put them on the agenda."
Participants should sit down together, and work out a concept, she said, and jointly formulate the goals. "It's not enough that only the Interior Ministry provides the goals, the structure and the concept," said Soykan.
Author: Dagmar Breitenbach (dpa, KNA)
Editor: Martin Kuebler