The federation has also called for written statements from the players, defenders Andreas Ibertsberger and Christoph Janker, who are being investigated for breach of doping regulations.
The players turned up 10 minutes late for a doping control immediately after the Bundesliga match on Feb. 7 with Borussia Moenchengladbach.
Rangnick told a regional television program on Sunday evening the players had gone into the changing room to put on a fresh shirt, saying this was common practice at other Bundesliga clubs.
"It was often so in the past that even the doping expert said they could go quickly to the dressing room to put on a fresh shirt," Rangnick said.
The coach said he had spoken to other managers about it and "it's also the case at other clubs that players have the possibility or are told to change into a fresh shirt."
Negative results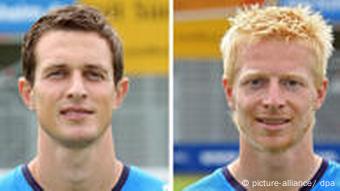 Janker, left, and Ibertsberger were late for their doping tests
Both Ibertsberger, a 26-year-old Austrian international, and fellow defender Jancker, 24, recorded negative doping tests in the controls carried out after the match which ended 1-1.
"That doping does not take place at Hoffenheim and in the Bundesliga is without question," Rangnick said.
DFB vice-president and legal affairs expert Rainer Koch said the federation adhered strictly to the anti-doping guidelines. It would take legal proceedings should it become aware of any practices which were in breach of the regulations, he said.
The Hoffenheim players could face suspension, while Borussia Monchengladbach have lodged an official appeal over the 1-1 draw.
Borussia sports director Max Eberl said the appeal was lodged as a "legal safeguard" and not with the aim of being awarded the points.
"For me as a former professional player it would be sad if the players were to receive drastic sanctions," he said. "They weren't doped after all."
Eberl, however, said doping "is an issue in sport and we have to be credible in football and cannot be negligent on this." Clear rules were necessary "and rules always mean consequences."