The E. coli outbreak in Germany is showing no signs of slowing down. So far at least 16 people have died and around 1,200 are infected in Germany, and new cases are popping up elsewhere in Europe.
But while the German authorities are working feverishly to try to locate the various sources – one batch of Spanish cucumbers is not thought to be the only source – the vegetable farmers and retailers are being hit by a massive downturn in income.
"Cucumbers, lettuce and tomatoes are being rejected, no matter where they come from," Andreas Brügger, director of the German fruit and vegetable retailers association (DFHV), told Deutsche Welle. "Large supermarket chains, canteens, hospitals, gastronomy firms are all turning vegetables away. People are scared."
Ambiguous warning
Brügger believes this mass consumer panic is down to the ambiguous warning issued by German authorities on Wednesday.
The joint statement came from the Robert Koch Institute, Germany's central federal institution responsible for disease control and prevention, and the Federal Institute for Risk Assessment (BfR). "In addition to the usual hygienic measures concerning handling of fruits and vegetables, the RKI and the BfR therefore advise against eating raw tomatoes, cucumbers and lettuces in northern Germany to prevent further cases," it said.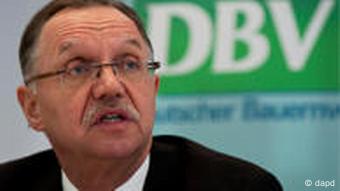 Sonnleitner says German farmers will have to take a heavy loss of income
This caused confusion. The German media decided that "in northern Germany" meant "from northern Germany," prompting what German farmers believed was unfair demonization, even though reports suggested that cucumbers imported from Spain were to blame.
Gerd Sonnleitner, president of the German farmers' association, called the warnings "dramatic."
"Our fruit and vegetable farmers are now the victims and will presumably have to deal with a massive loss of income," he told the Neuen Osnabrücker Zeitung daily.
Manure theory
The farmers were particularly outraged over speculation – widely circulated by the media - that the E. coli had come from manure used as fertilizer.
Brügger was incensed. "There were real deficits in the RKI's communication policy over this," he said. "This blanket warning was pointless, because tomatoes and cucumbers in northern Germany only come from greenhouses, so a traditional infection method through manure is practically impossible."
The DFHV head added: "We had no chance of getting into a dialogue with the RKI. We would like to have helped – to provide information and to check where there might be a source of risk. There was absolutely no communication between the authorities and the businesses."
The RKI did not want to comment on the angry reaction directly, but BfR spokeswoman Miraim Ewald blamed the media's miscommunication. "We communicated that there was an increase in cases of E. coli in northern Germany," she told Deutsche Welle. "We didn't warn against food that had been grown in northern Germany – that was misinterpreted in the media."
She also defended the authorities' handling of the crisis. According to the BfR, the warning was very general by necessity, since so little is known of the outbreak, particularly about the location and number of sources. "We told the consumers that if they want to protect themselves against E. Coli, they should avoid the consumption of raw tomatoes, cucumbers and lettuce in general. It was impossible to limit the warning any more than that," said Ewald.
"I can understand that the retailers have a very different perspective – for them it is an economic and an existential question. But the question is, how else can you protect the consumer if you haven't got all the information yet?"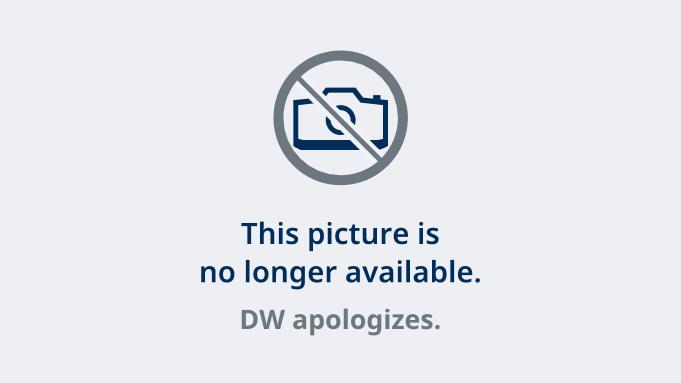 The E. coli bacteria is very difficult to trace
Painstaking investigation
Both sides agree on one thing, though – tracing E. coli bacteria is easier said than done. "It's very difficult to find out what happened, because the incubation period for E. coli is four to 10 days," said Brügger. "After that amount of time, the produce has usually already gone bad and is no longer being sold."
Ewald explained the process more fully: "The Robert Koch Institute has to interview the people who have caught it and find out where they ate, what they ate, where the food was bought, where it came from and where else it is sold," she said. "We have to identify the bacteria in the food and compare it to the bacteria found in the sick people. It takes a while."
On top of that, there is precious little precedent for such a fast E. coli outbreak, apparently with multiple sources. "This bacteria is such a special case – we've never had a bacteria like this appear on vegetable products," said Brügger. But he did have some suggestions for the future. "When there is a crisis like this, I think the authorities should work much closer together with businesses – you'd get quicker results and better information to consumers."
Johannes Funke, spokesman for the German farmers' association (DBV), was in a more conciliatory mood. "There's not much point in criticizing each other now," he told Deutsche Welle. "We hope and we expect that better information about the origins comes through. Better information than that it's just the cucumbers in general. And we hope that the consumer's faith will return."
Author: Ben Knight
Editor: John Blau