State health insurance patients are struggling to see their doctors towards the end of every quarter, while privately insured patients get easy access, according to a study released on Thursday. The news will come as little surprise to health-conscious Germans used to the country's health care system, which critics and opposition politicians say incentivizes profit over health.
Researchers at the Hamburg Center for Health Economics (HCHE), affiliated with Hamburg University, found that German doctors slowed down treatments in the final weeks of the quarter — so as not to lose money.
Read more: Germany's future doctors forced to seek training abroad
"The outpatient reimbursement system leads to fewer treatments towards the end of the quarter, and a sudden increase at the beginning of a quarter," Mathias Kifmann of the HCHE said in a statement.
As a result, many patients cannot get appointments with their regular doctors in the months of March, June, September, and December — and have to resort to emergency services. The researchers found a 19-percent increase in the use of emergency services in the final weeks of each quarter. "If patients have to wait a long time for an appointment, clearly they search for alternatives," Kifman said.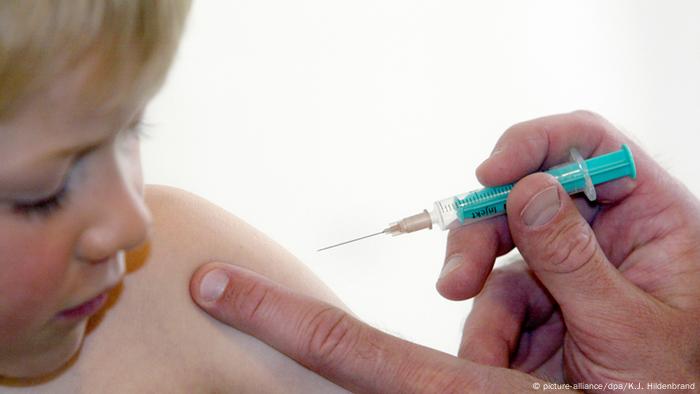 Vaccinations are not limited by budget
Budget system
The researchers traced the phenomenon to Germany's "budget" system, which means that state health insurance companies only reimburse the full cost of certain treatments up to a particular number of patients or a particular monetary value. This limit effectively functions as a kind of "budget" for such treatments — which make up 50 to 90 percent of different kinds of treatment, depending on the expertise, the HCHE said.
Once that budget has been exhausted for the quarter, doctors slow down — and sometimes even shut their practices altogether. This effect was particularly noted among general practitioners, though also among dermatologists, ophthamologists and gynecologists. Meanwhile, privately-insured patients continued to receive treatment during that time.
On the other hand, treatments that do not have budgetary limitations mandated by the state insurers, such as vaccinations and prophylactic treatments, saw no fall.
Green party health spokeswoman Maria Klein-Schmeink said that the study confirmed her own judgments — that German doctors have too much incentive to offer treatments that make the most money. "The actual health benefits are not the focus," she told DW in an emailed statement. "We need a reform that leads to a fairer distribution of resources and rewards good care for patients."
Read more: German hospitals 'carrying out unnecessary operations'
Waiting for a doctor
Dr Johannes Schenkel, medical director of Germany's independent patients' advice center UPD, said that the study tallied with complaints that his organization had received.
"We often see people struggling to get access to the health care system — that is, they have problems getting an appointment, or problems finding the right specialist," he told DW. "And when we get information like this from a study, then of course that is a further problem that people have to deal with in everyday life. Now it seems patients have to keep in the back of their mind: when do I have to go to the doctor?"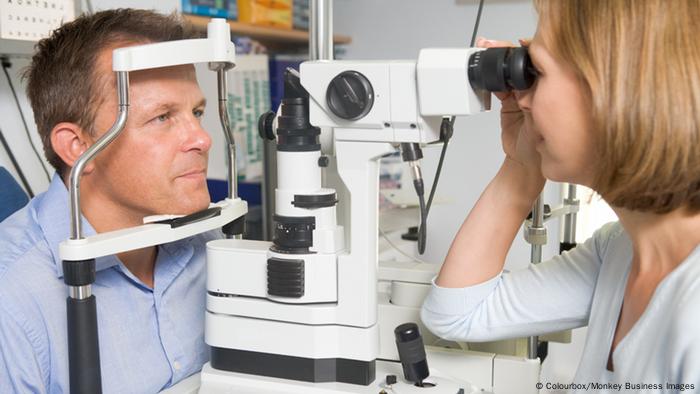 Ophthalmologists prefer private patients at the end of a quarter, according to the study
Herbert Möller, advisor for the German Foundation for Patient Rights (DSP), which represents the interests of terminally-ill patients and people in need of nursing and medical care, said it was "particularly difficult" for seriously ill people if they can't get appointments towards the end of a quarter. "They often have to go to a different doctor who may not be familiar with their case," he said.
"We do believe that this whole system needs to be rethought, so that the focus isn't on the most lucrative treatment or the cleverest book-keeping strategy — but that there is good treatment regardless of time or budget," he added.
No solutions in sight
But the HCHE also underlined that finding a solution to the problem was not that easy: simply lifting regulations limiting treatments, as some have suggested, could lead to a "cost explosion."
As things stand, it looks like there will be very little reform in Germany's health care system. The grand coalition blueprint agreed on Friday only foresaw a restoration of the equal payments system — whereby employees and employers each pay the same contributions to their health care. This is a long way from the "citizens' insurance" plan previously championed by the Social Democratic Party (SPD), which would effectively end the inequality between state and private health insurance — though not the budget system itself.
The HCHE carried out the study in cooperation with the scientific institute of the Techniker Krankenkasse (TK), one of Germany's leading state health insurers. The authors analyzed representative billing data from a sample of the 10 million Germans insured by the TK in 2013 and 2014.
Germany's profit-driven health care system has attracted increasing criticism recently — with another recent study showing that hospitals are carrying out unnecessary surgery in order to increase revenue.