In the wake of the Sept. 11 attacks, German lawmakers had given considerably more powers to intelligence officers to obtain information, particularly about people with a Muslim background. The were also allowed to employ a nationwide profiling search to flush out so-called sleepers, such as the Sept. 11 attackers, who had lived in Hamburg for years without raising suspicion.
The profiling searches in Germany have primarily targeted Arab students. They were approved by then Interior Minister Otto Schily, a Social Democrat. He played no small role in making sure that this highly controversial means of preventive investigation made it into the second package of anti-terror legislation adopted after the terrorist attacks in the United States.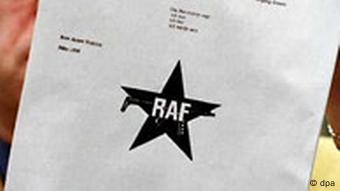 The RAF announced its dissolution via fax in 1998
The searches rely on computerized profiling methods which were first used here in the 1970s to hunt down members of the radical Red Army Faction (RAF). The tricky thing about the methods employed is that they completely fall short of data privacy considerations.
Usually, a profiling search compares data only from official bodies, such as the residents' registration office or the social security and traffic departments. But the expanded permission allowed access to data from sources that intelligence agents wouldn't normally get their hands on, such as health insurance companies, real estate agents or utility companies.
A black day for combating terrorism?
On Tuesday, Germany's highest court, the Constitutional Court, made it much harder for police or intelligence agencies to start such a search. It ruled that a general threat situation like the one following Sept. 11 does not justify any large-scale profiling activities if there's no concrete evidence of a terrorist plot.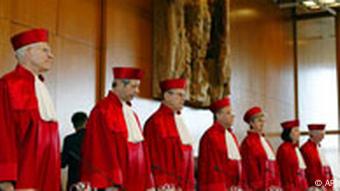 Members of Germany's constitutional court
Judges also said that such profiling, if it became known publicly, could "reinforce prejudices and stigmatize the affected social groups in the perception of the public," Reuters reported.
While police union officials said that the ruling made it virtually impossible to effectively deal with terrorist threats, Bavarian Interior Minister Günther Beckstein, a member of the conservative Christian Social Union, described the ruling as "a black day for the effective combating of terrorist attacks."
Ruling to affect World Cup preparations
Karl-Dieter Möller, the legal affairs correspondent for German public broadcaster ARD, said he believed the court ruling would have an impact on future intelligence activities during the soccer World Cup, starting in Germany in June.
"This sort of profiling search will only be possible if regional police and interior ministers are able to prove that there's concrete evidence that a terrorist attack is being planned," he said. "In other words, they'd have to prove that such a threat exists for this or that day or week, or that a threat is unambiguously linked to a certain football fixture. And we're talking about hard evidence. That is, a mere suspicion or probability that something might happen will no longer be sufficient to justify profiling."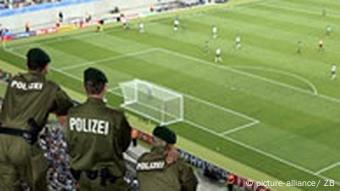 Police officers won't only monitor games but also check potential World Cup employees
Just one day before the court ruling, Heinz Fromm, the president of Germany's domestic intelligence agency, had confirmed that about 220,000 people interested in World Cup-related jobs are being screened with methods that at least come very close to profiling searches.
"What I've seen from the results so far doesn't include any major surprises," he said. "There are a number -- but few -- cases where we'll not allow employment contracts in stadiums or generally in the vicinity of World Cup venues. We may come up with a more detailed report of our search when it's done."
Legal overhaul required
A revision of intelligence work and regional police laws will have to be carried out as a consequence of the Karlsruhe ruling which does justice to a Moroccan student who had complained to the court after becoming the victim of a profiling search in North Rhine-Westphalia.
Incidentally, the same federal state is reported to have profiled some 5 million people between 18 and 40 years of age since 2001 without any concrete evidence of a terror threat. Not a single so-called sleeper has been found.