YouTube won a small victory in Hamburg court on Friday when a judge decided not to grant an injunction against the video-sharing platform. GEMA, the German artists' representation agency, had sued YouTube for the immediate removal of videos it said infringed on copyrights held by its composers and songwriters.
GEMA may have lost this battle, but the lawsuit between the Berlin-based royalty organization and YouTube wasn't really about blocking videos - it was about getting payment for them. The two sides have been trying for over a year to renegotiate a license that expired in March 2009.
"We just want YouTube to pay for the videos it uses," GEMA spokeswoman Bettina Mueller told Deutsche Welle. "That's the goal. We're not trying to hurt YouTube users or copyright holders."
Destined for failure
A discrepancy in the payment expectations is one of the reasons negotiations failed. GEMA is accustomed to the traditional method of royalty collection, where a user pays every time copyrighted material is broadcast.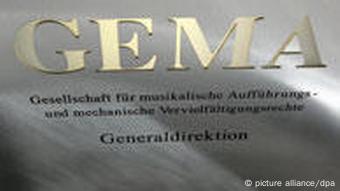 GEMA represents over 60,000 composers and songwriters
But YouTube doesn't see itself as a traditional broadcaster. The site doesn't charge users to watch videos and generates revenue though advertising. What's more, anyone can upload a video to YouTube at anytime. For YouTube, the bigger issue is whether a user-generated content platform can be held legally responsible for the materials uploaded by its users.
GEMA said the company should be obligated to ensure that the person uploading the video has the legal right to do so.
"YouTube knows which videos are on its platform," Mueller said. "The software for tracking that exists."
YouTube's spokesperson, Henning Dorstewitz, said the company has blocked countless videos at GEMA's request.
"If a person who holds a copyright discovers a video on YouTube that violates his copyright, he only has to give us the URL of the video, and we will block it," Dorstewitz said.
A strong signal
YouTube was bought by Internet giant Google in 2006
Many of the YouTube videos currently blocked in Germany are the result of agreements with record labels and have nothing to do with GEMA, whose clients are songwriters and composers.
GEMA's move block its own clients' material on YouTube was a risky one. An Internet presence is a critical marketing tool for modern artists, according to Mario Rehse of Bitkom, Germany's Federal Association for Information Technology, Telecommunications and New Media.
"Internet platforms like YouTube are the current and future way for musicians to reach their fans to promote their work, or even have their break through into business," he told Deutsche Welle.
A long way to go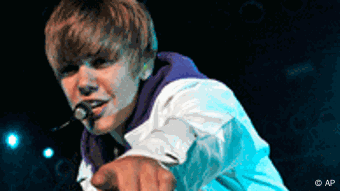 Pop star Justin Bieber was discovered on YouTube
By failing to give a definite judgment on YouTube's copyright policy, the court's decision leaves the door open for further litigation between GEMA and You Tube. But YouTube is hoping it won't come to that.
"This is a goal that can't be achieved through a judicial process," Dorstewitz said. "We invite GEMA to return to the negotiating table."
Author: Sarah Harman
Editor: Sean Sinico