Heavily armed police swarmed more than a dozen locations across the country Tuesday morning.
Some 12 apartments and a center used to house refugees and asylum seekers were all raided by police in the states of Thuringia, Hamburg, North Rhine-Westphalia, Saxony and Bavaria. Authorities have said the investigation began last year following the arrest of a 28-year-old Russian national of Chechen descent.
Investigators are targeting an additional 10 men and three women - all Russian Federation citizens in their 20s and 30s - as they look deeper into suspected militant financing. The individuals - all asylum seekers - are suspected to have "intended" to join the "self-styled "Islamic State" (IS)" in Syria police said, according to regional public broadcaster MDR.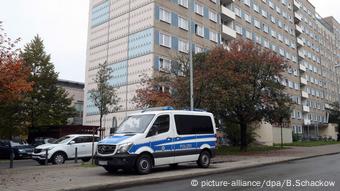 No threat to public safety in Germany has been identified, authorities said.
"There has been no concrete danger of an attack from the investigations so far," Thuringia's state criminal authority said in a statement. Special police units seized personal effects in various locations and will turn them over to investigators as part of the multi-state operation, the state criminal authority said.
Germany has been on heightened alert since two attacks were carried out in the space of a week in July. Both were claimed by the IS militant group.
jar, rs/kl (dpa, AFP)