The world's largest natural gas corporation, Gazprom of Russia, says it is eager to challenge major German power utilities in their home market.
"We don't just want to deliver gas to Germany, but invest in the country's power generation, too," Gazprom chief executive Alexei Miller told the Süddeutsche Zeitung on Thursday.
CEO Alexei Miller has a full war chest after record profits in 2011
Miller said the German electricity market was "very liquid," adding that unlike home-grown competitors the Russian gas giant "wouldn't seek state aid in building new power plants."
Gazprom goes it alone
Gazprom is Europe's biggest gas supplier from gas fields via transit links into individual national markets.
The company recently acquired Envacom, a regional German energy supplier, in its quest to gain access to the German market - its most important European customer.
In December 2011, however, talks between Gazprom and German power company RWE to set up a joint venture failed. The two companies planned to work together in building and operating power plants in Germany, Britain and the Netherlands. RWE chief executive Jürgen Grossmann said at the time that the two sides were unable to "agree on a framework of cooperation sustainable for both parties."
RWE is in need of fresh cash because earnings are being hit by the German government's decision to phase out nuclear power by 2022.
EU anti-trust rules an obstacle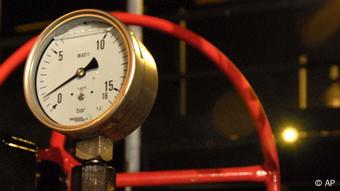 Russia will up the pressure on the EU over its energy sector rules
Miller also criticized EU rules mandating gas suppliers to loosen their grip on pipelines and power grids. Under the EU's so-called Third Energy Package - meant to boost competition and efficiency - gas production, transport and sales must be separate and open to third parties.
Miller said gas fields without pipelines were "worthless," and that enforced separation interfered with ownership rights.
"But every action triggers a counter-action," he warned, adding that there were considerations in Russia to launch legal steps against Brussels.
Author: Uwe Hessler (dpa, AFP)
Editor: Michael Lawton